How do People Decide to Move: Top 10 Reasons for Moving
Thirty-one million Americans or about 10% of the US population move at least once every year, and there are just as many specific reasons for moving. However, the motives for uprooting your entire life and venturing into the unknown or unfamiliar might be categorized depending on the age of those who move, their life goals, relationship status, economic situation, and lifestyle.
An average American moves about ten times in their lifetime, and reaching the decision to move can be a long process or the spur-of-the-moment thing. No matter how long it takes you to decide, we've managed to generalize the top ten reasons why many people choose to change their habitat.
#1 Finding a House of the Right Size Is the Main Reason for Relocation
The main reason for relocation for many is wanting a house of a different, whether bigger or smaller, two stories high, or an apartment. The US Census Bureau data shows that 17.4% of those who move decided to do it because they wanted a bigger or better home.
If you are exchanging a mansion for a smaller place because you don't need that much space or you just wish to downsize, you should find a solution for extra items that won't fit in your house. Firstly, there is always the option of selling doubles or items you don't use. Secondly, you can put them in storage, or thirdly, one of the helpful tips is – donate them. Downsizing comes with many benefits, such as a cozier vibe, a chance to spend more quality time with family, and lower utility bills.
Are you buying or renting a bigger place than you have now? There are more than a few folks that choose to exchange a smaller house for a bigger one. When your family grows bigger due to having kids or parents staying with you, it is only logical to seek accommodation that can fit you all. Besides, you might be tired of not having where to park your vehicle. When you get a bigger place, you can ship your car and park it in a garage or in your own driveway.
Did you know that 64.2% of Americans own their homes? If you're tired of renting and want to join this crowd, you might need to move. That's why becoming a homeowner is one of the top motives for relocating. Find the state and the city that suits your needs the best, and don't be afraid to relocate there. Yes, data shows that 82.7% of Americans move within their own state, but if you are looking for good house prices and safe neighborhoods, you should research other areas as well. Some of the most affordable locations for homeowners are Idaho, with $161 of average price per square foot, Utah, where you will need $235, and South Dakota.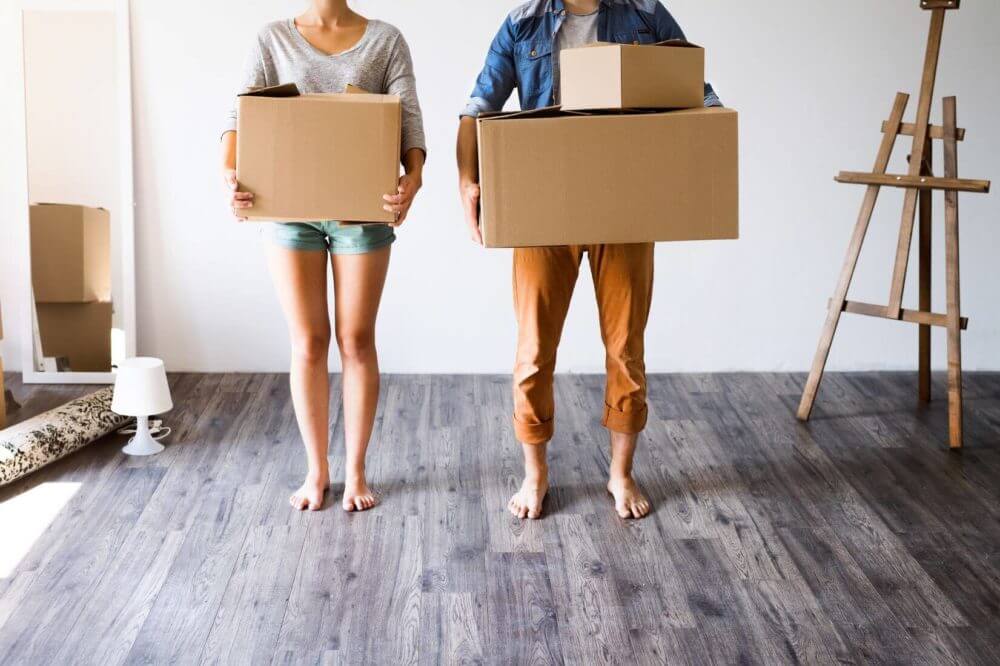 #2 Career Chasers Are Moving Because of Work Opportunities
Statistics show that 10.8% of people move because of new job opportunities. Depending on the field of expertise, some folks need to move in order to find more suitable employment.
Have you asked yourself how to get a job before you move? Find the town you wish to settle down in, find companies that you would like to work for, and fill out applications. Think about doing that even before you start packing.
All career seekers know that there are more than a few things to consider when relocating for a job. Not only will you be in an unfamiliar environment, but you will also have to cope with moving away from friends. Don't let the unfamiliar place scare you. There are many benefits that come with relocation; higher paycheck and career development are just some of them.
#3 The Pursuit of Love Can Take You to Many Different Places
The saying "Absence makes the heart grow fonder" can be true sometimes. But when you become sick and tired of maintaining a long-distance relationship with your partner, the logical thing is to move somewhere closer to them, or move in with them. A change in the relationship status is one of the main reasons many choose to find new homes, regardless of whether you are getting married or getting divorced.
Some statistics show that 24% of people have, at some point, relocated to be closer to a romantic partner, as well as that men are more likely to take that step. Relocation because of a significant other has its benefits, such as constant support and understanding. The important thing to remember when you are taking your whole life from one place to another is to communicate with your partner. This whole process will go a lot smoother if you tackle it together and handle all the tasks.
#4 Seeking Good Educational Opportunities Is an Investment in Your Future
Enrolling or leaving college is the cause for 3.2% of Americans to move. Whether you are done studying or you are just getting started, it is normal to migrate toward better educational opportunities.
Young people move from one side of the country to another, chasing their dreams of attending excellent educational institutions. Let's say you want to shine in the field of engineering and computer science. MIT or Stanford University would be top-notch choices. On the other hand, if your interests lay in politics, government, and history, one of the pro tips would be to enroll at  Yale University or Dartmouth College and find a home nearby.
If you have kids and you want them to be in an area with good schools, consider relocating. Start with thorough research of the schools in the new neighborhood; make sure you pick the one that has high-rated institutions in the vicinity.
#5 Change of Scenery Is for Everybody Who Is Itching for a New Start
If you are feeling suffocated in your neighborhood and not happy with your home, it is time to pack up your bags and relocate.
Those who are itching for a fresh start are more likely to uproot and find a different location to call home. Change of scenery can be a local relocation from an urban city center to a quiet nearby suburbia, or you could choose to go to another state far away. It is all up to you and your wishes and desires. Packing up your suitcases will be especially easy if you are a renter since they are more likely to relocate than homeowners.
#6 Search for a New Neighborhood
It is completely normal to seek the best of the best when it comes to housing. That is why the search for the right neighborhood is one of the top reasons folks move. Leaving the old place behind doesn't mean that something is wrong with it – it just means that you found something better. A place that has everything you desire, be it more hiking trails, cheaper housing, bigger buildings, or lower crime rates.
Safety Is One of the Top Reasons for Moving
According to data from the US Census Bureau, the cause for 3.1% of relocations is the pursuit of better neighborhoods that have lower crime rates than the current one. Many families, especially with young children, opt for a move to calmer, kid-friendlier areas with an abundance of parks and playgrounds.
If you set your mind on moving from a small town to a big city, do your research, gather data, and find a location with low crime rates you can live in. One of the helpful tips is to go online and check out websites such as CrimeReports and AreaVibes. Urban jungles are not always dangerous. There are more than a few metropolises that efficiently deal with crime, protecting residents along the way.
For some folks, bigger is not always better. This being said, take into account all the benefits that living in suburbia would bring you.
A Home in the Suburbs Can Be the Change People Need
Did you know that the average mover is between the ages of 18 and 34, a part of a couple with one or two kids? Taking this into consideration, relocating to the suburbs seems like a great way to give kids a carefree childhood.
Also, living in a smaller community brings out the tight-knit spirit. Not only will it be easy to meet new neighbors, but you might also get friends for life.
A Move Following a Fallout With Neighbors
You should always feel comfortable and happy in your home and neighborhood. Having a bad relationship with neighbors can be a trigger for many other problems. Constant bickering and a heated atmosphere between you and the people next door can be a good excuse for relocation. After all, who would want to live in a place where they feel uncomfortable and unwanted?
#7 Seeking Cheaper Housing Is a Thing
Data from the US Census Bureau shows that 8.2% of Americans move hunting for cheaper housing. If you have a chance to save up some money with the change of house, why not take it? Settling down in a cheaper state or city can be great for your budget.
When looking for the perfect place, conduct thorough research. Kick it off with tax comparison. Also, compare insurance rates, costs of living, and utility bills with your current house. When you are done, it will be easy to tell how much more money you will have in your bank account every month.
#8 Being Close to Family and Friends Are Great Reasons for Moving
Wanting to be closer to family and friends is why 10.5% of folks move. Strong family ties and the desire to be near your loved ones is something that can tip the scale in favor of moving away.
Ancient Greek philosopher Euripides said, "blood is thicker than water, and when one is in trouble, best to seek out a relative's open arms." That's why parents want to be closer to their kids and grandkids – so that they could be a part of their everyday life. Besides, young parents who live close to their families have somebody to babysit their kids. Freshly graduated young professionals seek accommodation near friends and family because of support, understanding, and love.
#9 Retirement Is a New Life Chapter for Many
Did you know that 14.9% of US citizens are 65 and older? Their average yearly income is around $48,000, but 8.8% have an income that is at the poverty level. Considering this, elderly citizens in retirement might change their homes by moving to places with an affordable cost of living and lower taxes. Only 13 states impose a tax on Social Security, and the elderly that live in one of those might consider going away.
Retirees usually look for places with good health care facilities and entertainment options for the elderly.
#10 An Entrepreneurial Spirit Takes People to Exciting New Places
FreshBooks estimates that America will have 27 million self-employed professionals in 2020. Every successful entrepreneur knows how important the location is when it comes to starting a new business. Since the US is the best country for entrepreneurs, with the Global Entrepreneurship Index of 83.6, every self-made man is on the right track to developing their own business.
Depending on the industry, some places are more convenient for some businesses than others. Let's say entrepreneurs are interested in startups; it is only logical for them to move to one of the fast-growing startup hubs — cities like Dallas, Austin, New York City, and, of course, San Francisco.
Small business owners can try their luck in Miami, Portland, or LA. These urban metropolises might seem like unlikely places for entrepreneurs, but a number of small businesses say otherwise. Wherever the road takes them, many entrepreneurs are willing to relocate to achieve their dreams.
No Matter the Reason for the Move Hire Cross Country Movers to Assis You in the Process
When it comes to making a move, the reasons can be diverse and personal. Whether you are relocating for a better job, seeking a change of scenery, or simply starting a new chapter in life, the decision to move is significant. To ensure a seamless and stress-free transition, it's essential to rely on a trustworthy and experienced moving partner.
Look no further than Flat Price Auto Transport and Moving, your top choice for a car shipping company and long-distance movers. With our exceptional long-distance moving services and expertise in cross-country moving, we have proven to be the ideal companion for countless satisfied customers.
Take advantage of our reliable services and make your move a smooth journey to your new destination. Embrace the excitement of change while leaving the logistics to Flat Price Auto Transport and Moving – your ultimate moving solution. Get started on your stress-free move today and experience the professionalism and care that sets them apart from the rest.