Things to Know About Shipping Your Car Cross Country
When going to a new state, you'll not only have to transport your household belongings, but you should also review your options for shipping a car cross country. There are a few ways to transport your auto from point A to point B, whether you hire a shipping company or drive it yourself. If you're looking to take a hassle-free approach to auto transport, you should choose to hire professionals.
To help make the task of shipping your car cross country easier, we've decided to make this handy guide. Read on to find out more about how transporting cars cross country works, what the average cost is, how to pick the right auto transport company, how much time it takes, and how to prepare your vehicle.
How to Choose the Right Auto Transport Method?
You have two options when it comes to transporting cars from state to state. You can either ship your car or drive it yourself. You may think that driving your car by yourself is the fastest, safest, and cheapest alternative, but that is not always the case.
Why Is Shipping Across the Country a Good Option?
If you hired a relocation company to provide you with packing and moving services, you would have to be on the spot when they arrive to deliver your things. You may not be able to do that if you're driving your vehicle for hundreds of miles. On top of that, driving such long distances can be quite challenging and even dangerous, even for the more experienced drivers.
On the other hand, if you go for professional auto transport services, your car will be either waiting for you in a regional terminal facility or shipped to your new location, depending on the type of service you chose.
What If You Want to Transport Your Vehicle on Your Own?
If you want to turn your move into a fun family activity and drive to your new home, be sure to:
Pack all you need for the road
Remember to get a lot of rest before and during the trip
Arrange for an overnight stay if the journey will take long
Count in the price of gas, state taxes, accommodation, and possible towing service
First Step – Do Your Research and Get a Quote
If you decided that car shipping is the more convenient method, research reliable auto transport companies online or ask for a recommendation if someone you know has shipped their vehicle recently.
Get as much information as possible about the carriers, insurance during transport, pick up and delivery, as well as possibilities related to the final destination. All of this combined should impact your final decision on who to trust to ship your vehicle to another part of the country.
The cheapest option is usually not the best one when it comes to companies that ship vehicles, but there are ways to save some money depending on the service you decide to take. When asking for a price estimate, ask about the different alternatives that are available to you and do a cost-benefit analysis. There is always a way to fit this long-distance adventure into anyone's budget.
How Much Would It Cost to Ship a Vehicle?
The cost of transporting your car across the country varies depending on a few factors:
Transportation distance – how far does the truck need to go
Type of carrier – open and enclosed carriers fit different budgets
Pickup and delivery point – are there any obstacles for the truck at the pickup point and final destination
Make and model of your car – the type of four-wheeler you need to ship does play a role, too
Weight of your vehicle – cars that weight over a certain number might require a special truck or pickup method
Modifications on your car – vehicles that have been modified in any way need special attention
Deadline for delivery – how much time it takes between the pickup and the date the shipment is delivered to your home
Time of the year – the time of the year is important because the summer is the peak season for companies that ship goods and vehicles
While some of these things may sound trivial, there are good reasons why they will affect the cost. If your car has been modified in a way that makes it bigger or heavier than the original version, it won't fit the standardized space on the carrier. Also, if there are expensive modifications, additional safety steps are necessary. If you opt for faster delivery, this will probably cost you more. Time of the year plays an essential role in car shipment because of the weather conditions and peak moving season.
So what does the cost boil down to? Of course, this depends to a great extent on the auto transport company you choose. Different companies have different ways of calculating the cost quote, but there are still average amounts we can talk about. For example, shipping a regular vehicle across the country – from one coast to another – will likely come with a four-digit tag. If the distance is shorter – for example, you're shipping your vehicle to a new home a few states away – you-re going to need between $600 and $1,000 on average. Of course, make sure you check if you are eligible for any discounts:
Veterans or military discount
Student discount
Any special offer that might currently be active
Early payment discount etc.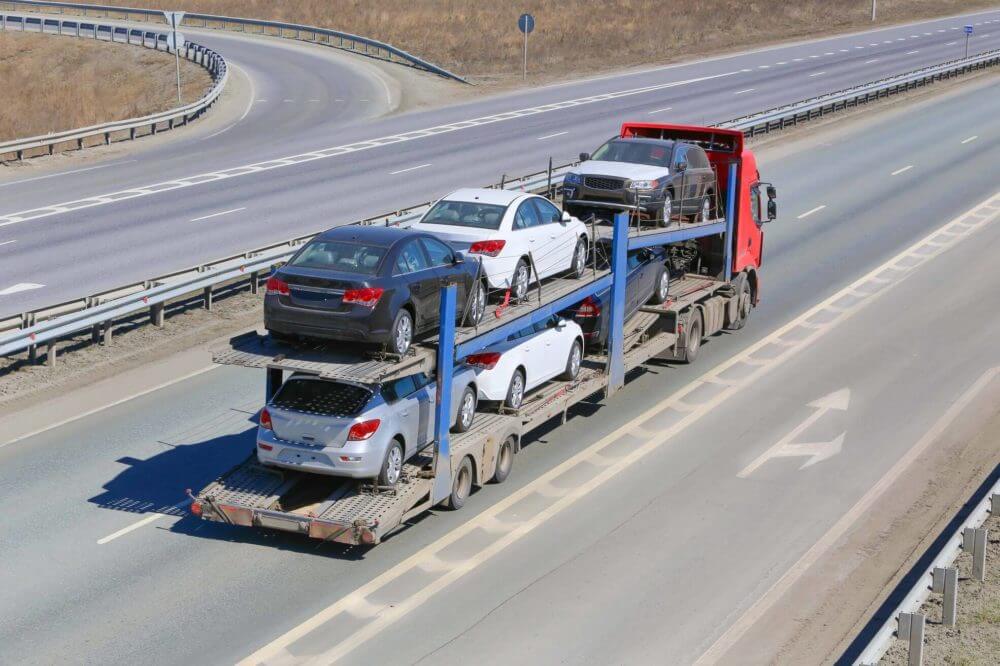 What Are Your Options for Shipping a Car Cross Country?
When you choose an auto shipping arrangement, you can customize the service quite a bit.
There is a possibility for a standard delivery time or a fast delivery service.
You can arrange the pickup well in advance or last minute
You can choose an open or enclosed carrier
You can get an additional insurance policy aside from the one provided by the companies
You can choose door to door or terminal to terminal delivery if there is a terminal close to your future home
All of these alternatives that companies offer have their benefits, and in the end, you can select the one that suits your needs the best.
Enclosed Carrier – What is It and How Much Does it Cost
An enclosed carrier truck is the safest way to ship your expensive auto. It protects cars from the elements on the road and the prying eyes of unwanted spectators. Enclosed carriers are usually smaller than open ones, and they should be scheduled as soon as you know you need to move your machine. This is a more expensive option, but if the safety of your car is your primary concern, then it is the best offer for you.
Open Carrier – It Still Goes a Long Way in Protecting the Shipment
An open carrier is scheduled more often than the enclosed one and can hold more vehicles. This a great, budget-friendly option because you will save money on transport while the safety of your car won't be compromised. Sure, it won't be protected from the elements, but if you're relocating during spring or summer, this is not something you have to worry about. Also, the carrier driver can check up on the vehicles at any point.
Delivery Point
There are two possibilities here. You can opt for the car to be delivered to your address or a terminal anywhere in the country. Depending on your location and the location of the nearest terminal, this will affect the price. It is usually less expensive to ship a car to the nearest terminal to your home since this is an established route and system of delivery, but it is not always the case, so ask about the cost of both options.
How to Prepare Your Vehicle?
You should schedule a check-up with your mechanic and get your car in the best shape before transport. Make sure to tell your mechanic what the purpose of your visit is. They'll know how to prepare your vehicle properly and notify you about any malfunctions that can jeopardize the safety of the car.
Tips for Getting Your Car Ready for Shipment for a Stress-Free Experience
Remember to empty your gas reservoir before pick-up, since any additional weight will affect the cost and it is a safety hazard to transport a car with a full tank.
Inspect your car at the pick-up and delivery point for scratches and damages.
It is not a bad idea to take additional insurance if you ship your car.
Empty your car from any personal belongings since they can add on weight and they are usually not covered by insurance.
How to Schedule Pick-Up and Delivery?
You have to be prepared for your car to be on the transportation route for up to two weeks, depending on the distance. You would want to schedule a pick-up date as soon as you start getting organized to move, especially if you are moving during the peak moving season. It is not always easy to find a spot on the carrier last minute.
If you want to move to your new home without any problems, it is best to hire a reputable moving company with a valid USDOT number and get everything done in one call. A highly professional moving business has established routes, appropriate equipment, trained and skilled staff, and experience to take on such a big project as moving a household with a vehicle to the other side of the country.