How Much Does Car Shipping Cost – We Have the Answer
When it comes to getting your vehicle safely transported across the country, the first question on your mind might be: how much does shipping a car cost? You may find the entire process very confusing at first, especially if you've never done this before. But there's no need to worry about it, as it isn't as complicated as it may seem at first glance.
Perhaps you are moving to another state and want your family car transported to your new home. Maybe you have just bought an expensive sports car, and you would like it safely shipped to you. Whatever the case is, you will be looking for the safest and the most efficient way to ship your car, but without overpaying the service. Here's what to keep in mind before you go looking for the best auto transport companies.
Do Your Research and Remember That Cheapest May Not Be the Safest
You shouldn't rush anything when it comes to relocation. Perhaps you want to get to your new home as soon as possible because you're moving for a new job. Maybe you just need your vehicle transported as quickly as possible as it is your only transportation option. Either way, you will want your car to be shipped in one piece and without a single scratch. It could seem like a sound idea to hire the first company you come across to ship your car or the one with the best-looking website.
Perhaps you're already moving on a budget and have found the cheapest option available. This is one of the most common moving mistakes. When it comes to relocation, if it sounds too good to be true, then it probably is. Take the time to research different car transport companies before you make any final decisions. It will pay off in the long-run, and you won't have to worry about your car getting damaged. What seems like the cheapest option at first often turns out to be much more expensive in car repairs – if your car even gets to the desired location.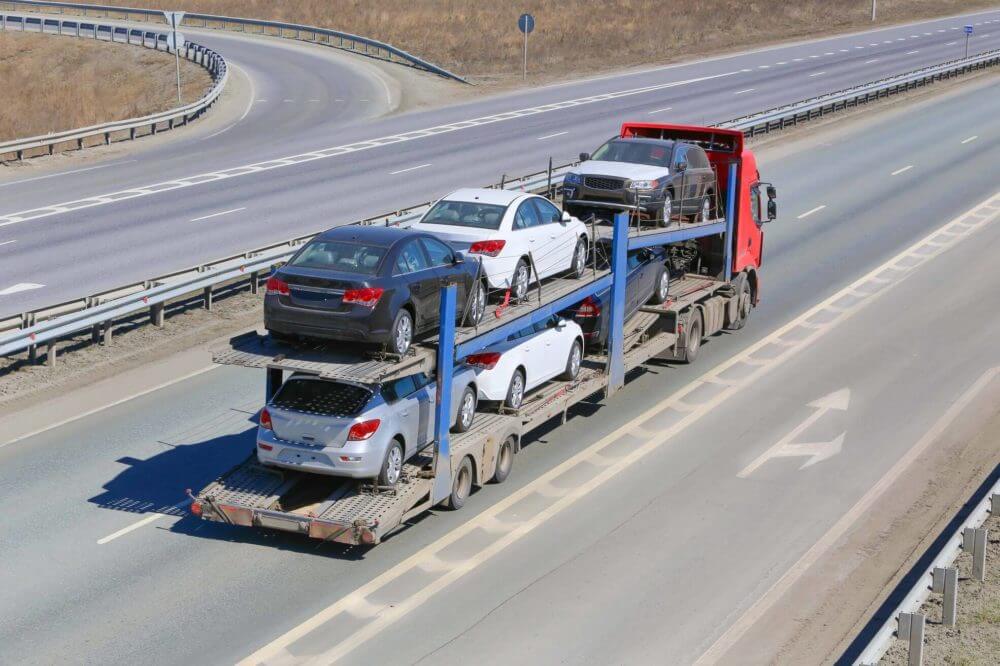 What Kind of Vehicle Do You Want to Ship?
Trailers have a carrying limit for obvious safety reasons. This means that depending on the size of the cars, there is a set number of vehicles that the carriers can transport. For this reason, it's more expensive to ship larger vehicles like vans, trucks, and SUVs. The carrier can fit more vehicles like compacts and sedans, and transport them safely.  Cars that are longer and heavier also cost more to transport. When it comes to transporting unusual or unique cars, it can also take more time for the trailer to depart.
Consider the auto transport company's interest as well – they want to have a full trailer before they set off. In case you have any special requests regarding the transportation of your car, that could cost you additionally, depending on the shippers you are working with.
How Much Does Shipping a Car Cost – the Main Factors
Let's delve deeper into all the factors that you should consider before you go searching for the auto transport company that suits you the most. Hopefully, you will have a good idea of what to look for, and won't be surprised when you receive quotes from different shippers.
The Condition of Your Vehicle Matters, Too
If your car doesn't run on its own, it will be considered inoperable, which will increase the price of shipping. This will mean more work for the crew, who will need more time and special equipment to take care of it carefully. Depending on the vehicle, it may also require a tow truck to get it on and off the moving truck. Don't forget that your vehicle may have to be offloaded many times due to its location on the trailer. In case your vehicle is damaged, it may have to be lifted by a forklift onto the carrier. Usually, companies charge from $100 to $150 extra to ship inoperable vehicles. If the car needs to be forklifted, the additional price can be between $200 and $500, depending on its size.
The Distance Between the States Can Affect What Kind of Quotes You Will Get
One of the major factors of how much auto shipping will cost you is the distance to the desired location. If you want it transported farther away, it will be more expensive, but not as much as you would expect. Many movers offer cheaper rates for long-distance relocations, which may surprise you when you get a moving quote. The effort and time spent working on the trailer and the cars are generally the same for the driver and the rest of the crew. The only difference is how much time the carriers will spend on the road.
Are You Going for Open Trailer or Enclosed Trailer Auto Shipping?
You will have to know the difference between the two shipping methods. The open trailer service is the most popular way of transporting a car. It's also the cheapest way to go about it. This is why it's so common to see so many double-decker trucks on the highway. The open trailer truck is often loaded with a lot of cars, usually six to ten, when they are doing a long-distance run.
Enclosed carrier transportation is the more expensive one of the two options. It's often used if you have just bought a new car and would like it shipped in the safest way possible. Maybe you are moving to another state and don't want to drive your classic across the country yourself. Either way, remember that the enclosed carrier service is the safest solution, but also costs more. The main advantage is that your vehicle will be safe from the road and weather conditions, like dust, rain, snow, and hail.
Where Specifically Do You Want to Ship It – the Importance of Pickup and Delivery Location
Where do you want your vehicle transported is also an important factor. Larger cities and metro areas just have more companies available and are connected with major highways. This makes it easier for the trucks to go about their business and makes the relocation process both safer and faster. In case you have just moved to a smaller town that's off the beaten track, getting your car transported there will cost more. If you are already moving on a budget, you may not have the means to ship your car straight to your door. In this case, you can consider waiting for the car carrier along the highway, which will lower your total costs.
Terminal-To-Terminal or Door-To-Door Transport
Now that you're aware that the pickup and delivery location can affect the price of the services, let's go over the two options that you'll have at your disposal. You will have to choose between terminal-to-terminal and door-to-door transportation, depending on your preferences and your budget.
Most major cities have terminals, carrier hubs where you can drop off and pick up your vehicle. This is often the cheapest way to ship your car, especially if you live close to a terminal facility. However, if your car will be at the storage facility for a while, the additional storage fees can quickly add up. There is also the question of safety. You have to determine whether or not your car will be in a secure storage facility or an open lot with hundreds of other cars.
As the name suggests, the door-to-door auto transport means that your car will be transported straight to a chosen location. Everything will be in your hands as you get to choose where the car will be picked up and where it will be dropped off. Depending on where you live, or where you want it transported, this option can be cheaper or more expensive than terminal-to-terminal shipping, but it's definitely more convenient. It will cost you more if the driver has to take weird routes to get to your home. But, you will feel much better about the safety of your vehicle, knowing that it's waiting for you in front of your new home.
Do You Need It Transported as Soon as Possible?
First of all, unless you're moving last-minute, you should research different shippers and arrange the auto transport two weeks or ten days before the moving day. Secondly, you should discuss the time of the pickup and delivery with the movers, and, if possible, get a guarantee of how long the relocation will take, especially if you decide to go with the door-to-door service. In case you want your car to be transported as soon as possible, you can pay extra for express delivery. In most cases, express delivery costs around 30% more than the standard one.
The Season of Your Relocation Can Affect How Much Shipping a Car Costs
The timing of the move can also affect how much you will have to pay for car relocation. In case you are moving during the holidays, car transportation may cost you more. The same goes for relocating during summer, as that's the most popular season to move. Car carriers are in high demand, and the rates jump accordingly.
Relocating in bad weather, for example, if you are moving during the winter months, can also mean an additional fee. The additional price can vary between different companies, and it's often between $100 and $500. Perhaps you are moving on a budget, and you've decided to do it during the winter as the rates are lower than when it comes to moving in the summer. Just keep in mind that due to the bad road and weather conditions, transporting your vehicle could end up costing you more, and might take more time.
Using an Online Calculator to Get an Idea of the Costs
Now that you know what to look for, you can search for helpful online auto shipping cost calculators. That is if you plan on checking how much everything would cost you, and want to get a rough idea before you get a quote from any carrier. Most calculators work by requesting the exact state you are moving from and the state you are moving to. Then you can select the type and make of the car that you want to be transported. The calculator will then give you a rough estimate so you will know how to organize your budget before you move.
In general, the most common rate is $1 per mile transported, with the rates going down when it comes to relocating long distance. On top of the rates, which can be fixed or not, there are additional costs that you should be aware of. Transporting larger vehicles can mean an added fee that can range from $75 to $150. In case you want your car to be loaded on the top, this request will be around $100. If you have chosen enclosed auto transport, then expect the price of the move to be about 80% percent higher than the standard. The only variable that can vary greatly is the price of gas, because it depends on the economy and the current market, and can differ from state to state.
Get a Quote From Different Companies
Going with the first company that offers you an amazing shipping quote is a bad idea. This is why getting many different quotes is among the most popular tips and advice that you will get. After you have researched different movers, get quotes from the ones that you find most suitable. Then you can create a shortlist that will help in your decision-making process. Comparing the quotes will give you a good idea of what seems too good to be true, and which business offers reasonable prices.
Hiring the Right Auto Transport Company to Ship Your Car
You will have to choose the company that will suit your needs and your budget the most. The cheapest services can also be the most dangerous choice. On the other hand, the most expensive one doesn't necessarily mean that you will get the best service.
This is why you should contact the companies on your shortlist before you make any crucial decisions. Not only to get a moving quote but to talk about the service you need as well. You can find out if they can help you out with any special requests and whether or not the company can help you out. In case you have already hired movers for their packing and moving services, don't be afraid to ask if they offer auto transport services, as well. If it's a business that you trust with your household belongings, then you can trust them to ship your vehicle as well.