Wondering What's the Cheapest Way to Ship a Car? Here's the Answer
Are you relocating or traveling, and you want your four-wheeler to be beside you? Perhaps you've purchased a car from another state and already spent a large portion of your savings. Then you might be wondering what the cheapest way to ship a car is. So today, we are going to help you save a few bucks and find the best option for you and your precious vehicle.
Finding the Cheapest Way to Ship a Car When Moving Across the State
Whether you are relocating for work or prefer to move during the winter and migrate to the south to escape from the cold weather, there is always the question of auto transport. We all know how convenient it is to have your car wherever you go, but it is not so simple. It is easy to pack a bicycle when moving, but you cannot wrap your car in packing paper and bring it along that easily.
And also, there is always the question of time and money, how long can car shipping last, and also how much car shipping costs. There are several solutions that come at different prices. We are going to take a look at them and see what the ups and downs of every option are.
Shipping by Rail – Arguably the Cheapest Way to Ship a Car
Although the expenses can vary depending on the distance, it is still one of the most budget-friendly options. Vehicles on a train journey travel in enclosed wagons, so they are protected from the bad weather and other external factors. However, it is not the safest option because vehicles are still exposed to vandalism while being in depots.
This way of shipping an auto is particularly popular among car dealers who need to transport multiple vehicles at once. Also, this option is not available anywhere. If, for example, you are moving from a small town to a bigger city, it can be difficult to find the railway connection between your two places. However, there is one line particularly famous among so-called snowbirds that goes almost from Washington DC to sunny Florida. The trip lasts around 18 hours, but you can still ride with your vehicle at a reasonable cost.
Spare Your Savings Account – Travel and Drive
The most straightforward solution when you plan to move out of Los Angeles or any other part of the US would be to drive the car yourself. Although many people would think that it can be too exhausting, long, or expensive, it can actually be quite fun. If there are two drivers who can switch on every several hours, it is way easier, but there are so many things to consider when deciding whether to drive or ship a car.
Plus, you can load your car with your stuff and save a lot on long-distance moving services along with the packing services. On the other hand, when using the services of an auto transport company, your vehicle needs to be empty.
This option can seem even more appealing if you're relocating to a new city alone, and you have enough time to turn it into a short road trip and visit a few other towns and sights along the way. Anyway, if you are going on a long journey, we strongly advise you to take frequent breaks and to sleep at night instead of driving.
The Most Common Way of Auto Shipping – Professional Car Transport Services
When shipping a car cross country, most people opt for professional auto shipping services that use carriers. The cost of this type of transportation varies depending on several factors, such as the model of a car, its condition, the distance, and the season. Keep in mind that the costs won't be the same if you're relocating from California to Florida or you plan to move out of San Francisco to another Californian city.
You can either opt for door-to-door service or the transport between two central locations. Most companies offer both, and since the price varies, it is best to fill out a quote and get all the information in a quote response from auto carriers.
Shippers also offer transport in enclosed and open auto carriers; the price is significantly lower for open ones, of course. But if your car is brand new, or if it's the season of bad weather, you should think twice before you opt for the more affordable option. It could cost you more in case your car gets damaged.
Let Someone Else Do It Instead of You – Hiring a Professional Driver
A not so popular option is to hire a professional driver to drive your auto from point A to point B. Although there are many agencies offering this type of service, and vouching for their drivers, a lot of people are still skeptical about this concept. Not everyone is willing to let a stranger drive their car and risk being stolen or damaged.
Some agencies ask for a deposit from the driver as a way of insurance, and the best season to find one is summer, when many are looking for a cheap solution to travel cross-country. On the other hand, in case the distance is long, many car owners prefer transportation that does not add additional miles on their vehicle.
How Much to Transport an Auto?
If you have decided to start this adventure, you are probably wondering what is the cheapest car shipping company and how to find it? There are several things that can affect the cost of your car transportation, but you'll realize pretty soon that this service is not cheap at all. That is why it is crucial to do your research and to have an insight into the offers and estimates of various companies.
Nowadays, almost every company offers the option of filling an online quote on their webpage. A quote is in the form of a questionnaire where you insert a few necessary information about your vehicle, such as age, make and model, from where to where, and you will receive quotes from companies. Based on those quotes, you can pick the company that offers the best deal for the type of transport you need and the distance between the two locations.
Keep in mind that this is a very competitive industry, and there are plenty of auto transport businesses offering several types of transportation. Take your time to estimate what is the most affordable option for you. Approximately, if we forget about the train due to insecurity and the fact that it can be difficult to arrange the date, the price can go from $1000 to $2000 for car carriers, depending on their type.
How to Spot Red Flags in the Car Shipping Industry?
Prepare that not all the companies have your best interests in mind. There is nothing wrong with wanting to earn money, but certain agencies are doing it the wrong way. Some are there solely for the profit, and they will do anything to cut the costs, providing their clients with services that are far from top-notch.
Be careful what you sign and where you are leaving a deposit. Some agencies like to take your money and assure you that they will transport your vehicle, but actually, they will look for other carriers who can do it for less money. And it often happens they do not do it on time, so your transport can be delayed for days, weeks, etc.
Usually, when you get an estimate that sounds too good to be true, there is something wrong about it. People are always looking to save money, and they do not want to pay more if they see there are more affordable options. Always research the company online before you pay them upfront.
For example, in case you get a quote saying your car will be picked up during the next seven days, but the price is significantly lower than the competition, the chances are high that your car is not going to be picked up that fast. Once they get your deposit, weeks can go by before someone comes for your car, or they might not show up at all.
How to Know What Is Best for You?
When moving something as expensive as a car, you want to make sure you are doing all you can so that the car arrives at its destination safely and intact. When it comes to professional shippers, which is the most used means of transportation, there are two major dilemmas that every car owner has to resolve before sending an auto on a journey across the country.
Open or Enclosed Shipping
You have probably seen trailers carrying up to ten vehicles. They are all arranged like puzzles, bouncing slightly, exposed to weather, etc. Yet, the majority of people take this risk, because prices of open carrier transportation are significantly lower compared to enclosed wagons. One of the reasons why there is such a difference in price is insurance. Insurance policies are not the same for both types, and although your car is still insured while on an open carrier, the liability is ten times lower in case something happens due to the driver's mistake. Also, since there are many uncovered trailers transporting vehicles, the market is more competitive, and the prices are lower.
Door to Door vs. Terminal to Terminal Transport
Although door-to-door shipping seems more convenient, it is not the most affordable option. Check how much it would cost to drive to the closest terminal, and compare prices. If you are not close to a big city, it would cost less if you drive to a terminal, then if a truck came to your door. But anyway, it is an excellent service if you do not have the time to drive, and you just want someone else to do all the work. If you are driving to a terminal, prepare your nerves, and be patient, because there will be plenty of other drivers in a small place.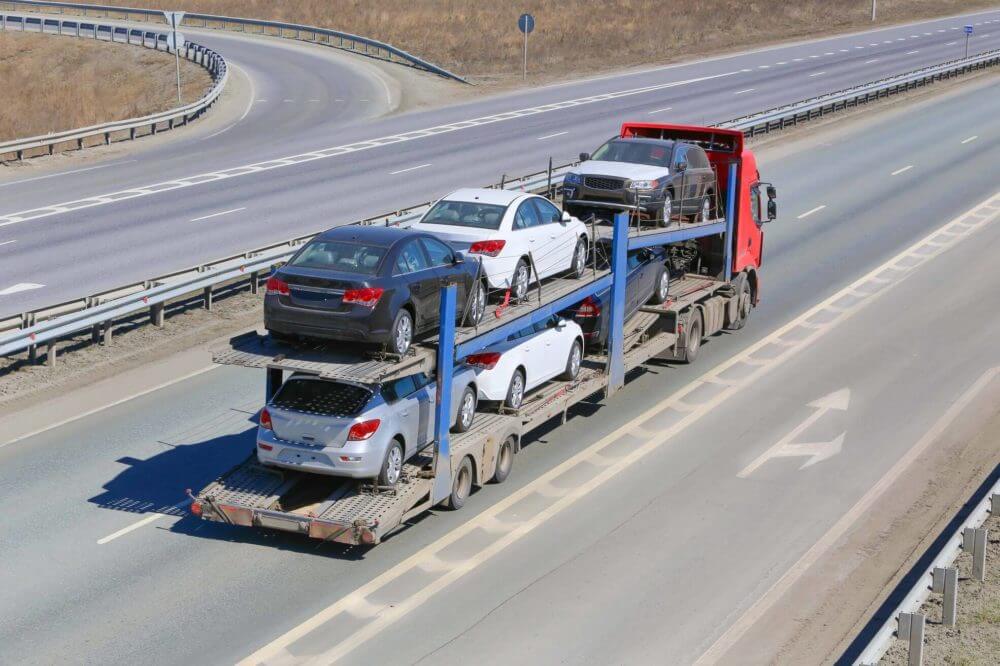 How to Prepare Your Vehicle for the Road Trip?
We like to move around looking our best, and we should pay the same attention to our four-wheelers. So here are some things you should do to prepare your vehicle before you ship it:
Wash the exterior– make sure your car is  washed and clean, so you can easily spot any potential scratches or damage once it arrives at the final destination
Remove everything from the inside– Since your car can be in a leaning position, things can tumble and move around, so get rid of all air fresheners, chargers, pendants, etc.
Disable the alarm– If you overlook this step, the driver won't be too happy and he might disable the alarm anyway he can.
Tire pressure– Tires that are not inflated enough are a hazard on the trailer as well as they are on the road. Besides, a vehicle with deflated tires can get damaged during (un)loading.
Take pictures – Photograph any existing scratches, but also all other surfaces. In case something bad happens, you will have proof of the vehicle's previous condition.
The Bottom Line
Although it seems pretty straightforward, there are so many things you should pay attention to before you choose a company that is going to ship your car. Hence, we hope we managed to provide you with enough information and tips you need so that you can find a safe and affordable option. What is cheap is a relative question that has no single answer, because while someone cares to save money, others care to save their time and energy. It is all up to you and your personal preferences.