Is It Better to Drive or Ship Car Across Country
The average person spends around six months of their life waiting for a red light to turn green. Statistics also tell us that every 1 hour a car is delivered somewhere in the USA. So, it is hard not to wonder whether to drive or ship a car across the country when moving long-distance.
We asked the same question once, so we decided to make a list of pros and cons to help you answer the dilemma of "should I ship my car or drive?" Both solutions have their advantages and disadvantages, and in the end, it is up to you to decide what suits you best when long-distance moving.
Ship Car or Drive Across Country – How to Make a Choice
In any decision-making process, many factors must be taken into consideration before you make your choice. And it is the same when it comes to this matter. Is it bad to drive your car cross-country? Or how much does car shipment cost? These are just the tip of the iceberg of questions you probably have. But if you gather all the necessary information, you will be able to make informed decisions best suited to your needs.
If you are relocating to another state, you will have to consider other things, too, like finding cross-country movers, the cost of interstate relocation, and others. And in case you have to move out of state on a budget, you should calculate and see how auto transport service will fit in among other planned expenditures. Figure out carefully if driving your car would cut your relocation costs.
Why Use Auto Transportation
So let's get to the point and see the benefits of hiring an auto transport company. Getting something from one side of the country to another is not an easy task. There's so much planning and organizing involved that many people opt for simply putting their vehicle on a truck. Here are some of the benefits of car transportation:
Your vehicle will be in better condition – Even if the idea of a road trip is fun, it has a significant impact on miles traveled. And as you may know, the value of a vehicle depends on mileage – the more miles you put on your car, the less you will get once you decide to sell it.
You will save a lot of money – No matter what your reasons to move are, whether you are relocating for a job or something else when driving long distances, you will have to take some days off your work for driving 5-6 days. If you are relocating to another state alone, this will probably be even more. And yes, car transportation will cost you but so will open road expenditures, like a night at a hotel that on average cost $100 or more.
Time is money – If you ship your car, this will save you at least one week of your time, and we are talking about driving to a new home. But even before you go on your trip, you will lose a lot of time arranging everything. You will have to plan your trip carefully, book hotels, and find places to eat. If you wish to have stress-free relocation (and who doesn't,) you don't need this obligation in addition to so many things you have to do.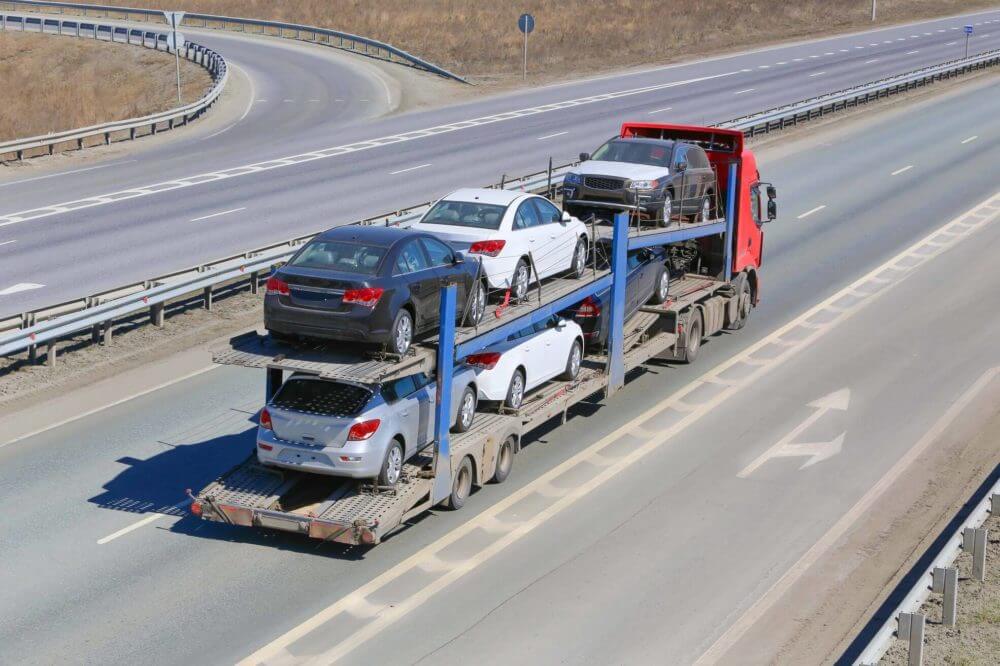 Benefits and Downsides of Driving Your Car to Another State
There are a lot of reasons why driving your car to another state is a good option. For example, it will probably be easier to go on a road trip if you are relocating with pets than making airplane arrangements. Or, if you are relocating while pregnant, a road trip will probably be a better solution, depending on your doctor's recommendations. Also, one of the good sides of traveling to another state by car is that you will get to see beautiful nature and new places. And we shouldn't forget that if you travel by car, you will be able to pack some items on it and have less stuff on your truck.
But we should mention some downsides of open road driving. First of all, there is safety. According to the National Insurance Crime Bureau report, there were over 873,000 auto thefts in 2020. But theft is not the only thing you are risking on the open road. You will have to think about other safety issues such as accidents, flat tires, and if there is something wrong with your car.
How Much Does It Cost to Ship Your Car Across the Country?
The cost of shipping a car depends on many factors. The first thing that you have to consider is the size of your auto. If you have a truck or sports car, you will probably have to take an enclosed auto transport which costs more. Also, if you're relocating in the winter, the price will be different than when relocating in the summertime. In short, weather conditions can greatly affect the duration and costs of car transportation.
Summer is a peak of the season where demands are higher, and so is the price. Still, you can be pretty sure that there will be no delays due to weather conditions. On the other hand, while winter is the cheapest time of the year to relocate, your shipment will probably take longer because of the unpredictable conditions along the way.
Truck Options Will Determine Your Shipping Price
As you may know, there are two transportation options you can choose from, and that choice will impact the price. If you choose the open trailer option, you will be able to relocate more than one car. This option is common, and it is cheaper than an enclosed trailer, which is usually used for shipping luxurious and large vehicles. And since you can transport only one car at a time, the costs are higher.
Cost of Will Depend on Distance of Vehicle Shipment Too
As you can figure, the distance will impact the price of auto shipment as well. The average cost of car shipment for 150 miles is around $360 for open and $580 for enclosed transport. But the price will change as the mileage grows. So if you have to transport your car 1000 miles away, you will pay $910 for an open trailer and $1,390 for an enclosed trailer.
Pickup and Delivery Have a Huge Impact on Transport Price Too
Many cross-country moving companies offer two types of pick-up and delivery options. And as logic would have it, one is cheaper than the other. The option that will probably make your price a little higher is door-to-door pick-up and delivery. With this one, a car will be taken from your doorstep and left in front of your new home. This is probably one of the best ways to move efficiently, but if it doesn't suit your budget, you can choose another option, terminal to terminal. With it, you will have to take your car to the company's nearest terminal, leave it there, and pick it up from a lot at your desired location.
Is It Cheaper to Drive or Ship Car Across Country?
Well, the short answer would be to travel by car. Still, this difference is so insignificant that you will probably make more money if you decide to work that week instead of travel. For example, for 2,750 miles, you will spend $1,200 if you go by car and $1,270 for shipment. On average, it costs about $180 less to go on the open road by yourself, but with the DIY option, you have to consider gas and other road expenditures – hotels and restaurants. Then again, if you are relocating your entire family, your travel costs will be cheaper than going on an airplane. But if you are relocating to a new city alone, consider car shipment.
What Is the Cheapest Way to Ship a Car Across the Country?
We already mentioned the choices you will have once you book some of the transportation companies. You will have to consider the month of the year you are relocating, weather conditions, choose between the open and enclosed trailer, and what kind of delivery you prefer. If you choose terminal to terminal, you will pay less, and it is the same with an open trailer. So to make a long story short, the cheapest way of transporting your car will be in the wintertime on an open trailer, where you will pick your vehicle on a terminal.
Choose the Best Vehicle Shipping Company
Choosing the right car shipping company and long-distance movers will be one of the most important factors in the relocation process. It is important that you choose from companies that can provide you with all the services regarding relocation. This will save you a great deal of time in the process, and most importantly, you will have more time to do other things related to your cross-country moving.
For example, if you are unemployed, you will have to think about getting a job in a new city or making living arrangements. A lot of things have to be done when relocating. It is always better if you can hire professionals to help you. When searching for reputable movers, make sure you do all that is necessary to check each company out if you wish to avoid relocation scams. So don't hesitate to look for reviews about your movers online and make sure you find out if they are registered as a legit business.