Stress Free Moving is Possible… With These 5 Tips and Tricks
Stacks of boxes, frantic packing, well-thought-out ideas falling apart… All that and much more is often a part of the mental image of relocation. But it doesn't have to be so. Stress-free moving is indeed possible, and we're here to help you make it so.
Relocation is not an easy task, especially if you're moving for the first time. Having no experience in the matter can be daunting, but with enough space and proper guidance, all can be accomplished successfully.
No. 1 Tip For a Stress Free Moving – Plan, Plan, Plan
As with anything in life, an excellent and well-laid plan is the foundation from which everything else stems. In an ideal case, where you know the date of the move well in advance, you should give yourself six to eight weeks to prepare. So take one afternoon off and create a checklist.
First, write down all that has to be done until the day of the relocation. Then sort it out and allocate slots for each task. Some kind of board or panel will work best for this. After you've done it, you'll have a much clearer picture of everything that awaits. Furthermore, you can make a plan according to your preferences. It's not the same if all the potential administrative issues have to be done in a few hours or during the span of a few weeks.
Also, prepare a healthy stash of boxes, crates, and other relocation supplies.
When all is put on paper (or board), it's time to think about the crucial next step of planning – deciding whether to hire a reliable moving company or do it yourself.
Hire Reliable Movers For a Stress-Free Moving
The relocation industry is competitive, and there are many companies on the market. Choosing the company that best suits your needs is not that difficult, but it does require some research. The first rule here is only to consider licensed companies and check whether they are legitimate. Then proceed to compare the cost of interstate relocation. In that regard, it is better to hire a nominally more expensive mover that gives you a binding quote. That way, you can be sure there are no hidden fees or additional costs, which is not the case if the company gives you only a rough estimation of costs.
Feel free to turn to the customer reviews section on the website of the movers you wish to hire, as a source of information about the companies and their services, but tread with caution. With the internet, as it is today, it is important to know how to recognize fake reviews.
Things to look for in a company are whether it offers storage space in case some of your belongings should stay cached for a while or an auto transport service. Wherever you go, you'll need your car.
Of course, sometimes events take us by surprise, and planning ahead isn't possible. If you have to do a last-minute move, be sure that your company can help you with their packing service, as well.
#2 Clear Up and Declutter Your Home
Over the years, you have undoubtedly filled up your home with stuff that you don't really need. Relocation can be a perfect opportunity to get rid of surplus things. Sift through all your possessions, and make decisions on what should stay and what should be thrown away.
All kinds of collections of basically useless junk should end up in the second category. If you discover a shirt you've completely forgotten about, well, forgetting it should be a cue in the first place. No reason to haul magazines since most of them can be read online. By all means, figure out your own criteria for this, but the main question should be whether you'll use something soon. If the answer is no, that should pretty much be the base of the decision.
When the triage is done and tough decisions are made, the extra stuff should be disposed of in the right way. The best way to do it is through donations and a yard sale. Selling unneeded items is an excellent way to beef up a budget to an extent, but also an opportunity to have one last chit-chat with your neighbors and say goodbye.
As for giving stuff to charity, you'll have to make another sorting. Organize things for donation in such a way that only the stuff that is not damaged remains on the "donate" pile. Another option is to take the stuff to a second-hand store.
Call Up Disposal Services
With all unneeded but functional items sold or given away, the last part is throwing away the junk. Put it in some of the old boxes or bags with a particular label. You can take them out by yourself or with the help of family and friends. However, it may be a good idea to call the disposal service in advance. They may then ship the discards to recycling or someplace else, as they see fit.
Have no doubts that, after this entire process is over, your home will feel a lot lighter, and packing will be more efficient and made a lot easier.
#3 Start Packing Early
Packing is, in many ways, one of the most stressful parts of a move. Having to practically deconstruct your home is not easy. But with our tips, you can make it at least a bit easier.
Pack in phases, since that's proven to be one the easiest way to pack. Start with things that you don't and won't need in the short term. If you're moving in the summer, you can safely put away winter jackets and blankets first, for you certainly won't miss them until the move. Just ensure you've folded everything the right way, to keep clothes from wrinkling. Then proceed accordingly, room by room, in order of everyday usage.
Well-organized packages are of utmost significance. Label every box and crate, for you never know when you're gonna find yourself in desperate need of this or that item. By getting properly organized to move, finding anything you may need at any moment will be a piece of cake.
A word of caution, though. If you're using professional moving services, stay informed on your mover's policy, since there are things they will not transport. Learn what not to pack, so there are no surprises. As expected, that list is mostly comprised of toxic and flammable materials, firearms and ammo, and chemicals. Most movers won't take potted plants or any other living being. Therefore, your plants and pets will have to travel with you in the car.
A valuable packing tip is to keep all personal and other important valuables and documents in one place before wrapping them up. Besides, avoid putting such possessions in a moving truck and keep them close to you during the travel to a new home. Believe it or not, they are among the most commonly forgotten things to pack. Another smart tip is to have a bag of essentials ready and nearby.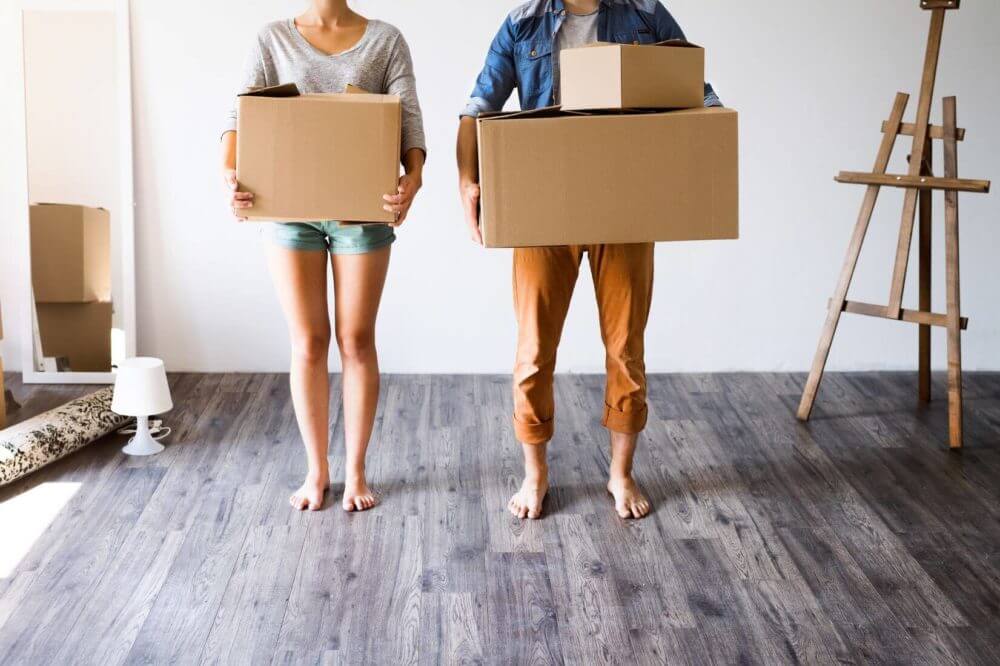 #4 Prepare the New House In Advance
To further ease the burden of relocation, it would be wise to prepare your new home in advance, if possible, especially if you plan to move to a new city alone. If you can, go there, clean the place, and do a full assessment. That way, you'll avoid any potential surprises when the day of the unpacking finally arrives. It is a perfect opportunity to carry out measurements of the floors and windows, in case you wish to buy carpets or blinds. Knowing that a clean and ready new home is waiting for you at the end of the process can do wonders for your state of mind.
It may also be an opportunity to meet new neighbors and start the process of settling into the community.
Label the Rooms
There's one more thing you may do at your future house. Label the rooms with the same color as the boxes. If your kitchen items are stored in crates with a green label, put another same-colored label on the kitchen door. That'll ease the work of the relocation crew since there will be no dilemma about where they should take which box.
#5 Say Goodbye to Friends and Favorite Places
Imagine you're relocating from California to Florida, all the way across the country. In the sea of relocation-related tasks, it's not hard to forget about yourself. In fact, that is probably the most significant stress inducer of all. So don't let it prevail.
When making a plan and a schedule, reserve a slot or two each day for you. Meet with people, have a few drinks, and talk about the time you spent together. Saying bye to friends is not easy, but it is important. And especially so if you're moving out of Los Angeles and going far away and that may well be the last time you see each other in person. So throw a party, pass a few balls, or invite them to dinner. You'll feel better in the long run.
Also, take the time to walk around. Go to that park you spent your childhood in, or watch a movie at your favorite cinema. Try to visit as many of your special spots and enjoy memories before the moment comes to leave all that behind.
Take Kids to the Nearby Sweet Shop
If you are a parent and you're relocating with kids, it'll come as no surprise to you that kids should be treated carefully in stressful circumstances, of which a household in the process of relocation is an epitome. Take them to the playground, or have ice cream with them. Take them to a patisserie they love and have a piece of cake. Show patience, and your children will respond kindly. By making it easier for them, you'll make it easier for yourself as well.
Final Tips
With all the technical details and moving day preparations out of the way, these final words concern you, and you alone. Whatever tasks are ahead, keep in mind that good sleep is essential for your wellbeing. Never skip a meal. Take time to eat properly, for though it may seem so, coffee is not a miraculous elixir. But most important of all – don't lose it when things are not going entirely according to plan. They often do so, and you know it. So always have a "plan B" in store. Your initial checklist and bulletin board are crucial to planning, but they aren't set in stone. If something isn't working, adjust it and keep doing it until it's in pace with the overall tempo. They're there to help you, not freak you out. After all, you know yourself and your ways of doing things the best.
In the last instance, if any part of the process seems overwhelming, ask the movers for help; they did it all countless times. So good luck, and many happy returns.