Easiest Way to Pack for a Move – a Quick Guide
Obviously, the easiest way to pack for a move is to hire professional movers. But such services cost and when you are moving into your new home on a tight budget, you need all the money you can save. You can do it yourself if you just make a plan and organize everything thoroughly. Benefit from this opportunity and get rid of all the unnecessary stuff you have piled up for no reason over the years.
Tips to Help You Find the Easiest Way to Pack for a Move
There is a saying which states that a stupid man remembers and a smart man writes down. This is especially true when it comes to moving. In that commotion of sorting through each box, it is easy to forget essential things like canceling the utilities or applying for them at your new home. Write down everything you can remember, and keep adding things along the way. 
Consider calling the movers a month before going to your new home because they might be crowded with work and you may have better chances of scheduling the cheapest day for moving. Know that weekends are usually the most expensive option due to increased demand. 
It is advisable to call electricity, gas, water and Internet providers a week in advance to inquire about the exact shutdown time. The same goes for changing your address to avoid bills and packages arriving at your old address once you have left.
Use Your Storage Bins and Luggage
Storage bins and luggage are very bulky so try to use them as moving boxes. Of course, you can always opt for renting storage units from a moving company for the belongings you don't plan on transporting to your new home straight away.
Take Pictures of Everything
To be able to reassemble electronic devices once you arrive at your new place, take photos of the complex sets of cords and plugs at the back of your appliances, so that you know which one goes where. Also, take a photo of the place you are leaving, as well as the one you are moving in, in case some damages occur when you leave or arrive.
Take Advantage of Trash Bags and Other Related Items
Similar to luggage, trash bags can serve as packing material. You can fill them with softer objects and squeeze them between each box to stabilize them. And it'll make it easier for movers to transport your items. 
Make a Schedule
Marking a schedule of activities on a calendar will significantly reduce the trouble of relocating and let you know when to expect movers. You will be able to keep track of everything you need to do and avoid the stress of doing things hastily. Write down the tasks for each day of the week and see how they get completed one by one with no trouble.
Set Aside Stuff You Don't Need
There are a lot of things we do not use and will probably not use at all, but which are in good shape. Set them aside for garage or online sale or donate them. Plan the time for sale and price the items. 
Get Rid of Clothes You Don't Wear
If you want to ease the burden of packing and loading and keep some money in your pockets, then set aside the clothes you have not worn in a year and get rid of them. You can start sorting and separating clothes in the early stages of moving.
Prepare Your Packing and Moving Supplies
It is advisable to collect sturdy boxes and other quality material in various sizes, as you will be dealing with items of different shapes and dimensions. Also, books and kitchenware are rather heavy, so solid boxes with reinforced bottoms are a must.
What Packing and Moving Supplies Do You Need?
First of all, you need boxes. Apart from that, you will need the following material:
bubble wrap

packing paper 

padding supplies or crushed paper 

moving blankets 

tape

labels

markers

scissors 
Pack Ahead of Time
You should start planning and sorting things well in advance. Start with seasonal clothes you know you won't be wearing and things you won't need like books, paintings, photographs, etc. 
Pack Effectively and Efficiently
First, create a packing area. Designate a room and clear it as much as possible so that you can put boxes and other related material there.
When putting things in a box, try to be efficient with space and make sure the heavier possessions are placed at the bottom. Heavy stuff like books should be packed in smaller boxes, as you will not be able to lift them otherwise.
When packing kitchen drawers, you can even keep the contents inside if you add plenty of crushed paper and then wrap it and secure it with tape. 
When it comes to electronic appliances, make sure you bag the cords and remotes and tape them to the devices they belong to. 
Label Your Moving Boxes
Labeling will save you a lot of trouble when unpacking. First, you need to label each of the boxes according to the rooms they belong to. After that, clearly designate which one is going to be unpacked first. For example – Kitchen, No 1, whereby No 1 would indicate things you will need immediately upon arrival. Then write other warnings, such as "Fragile" or "Up" and "Down." For easier unpacking, you can even write the content on one side of the box.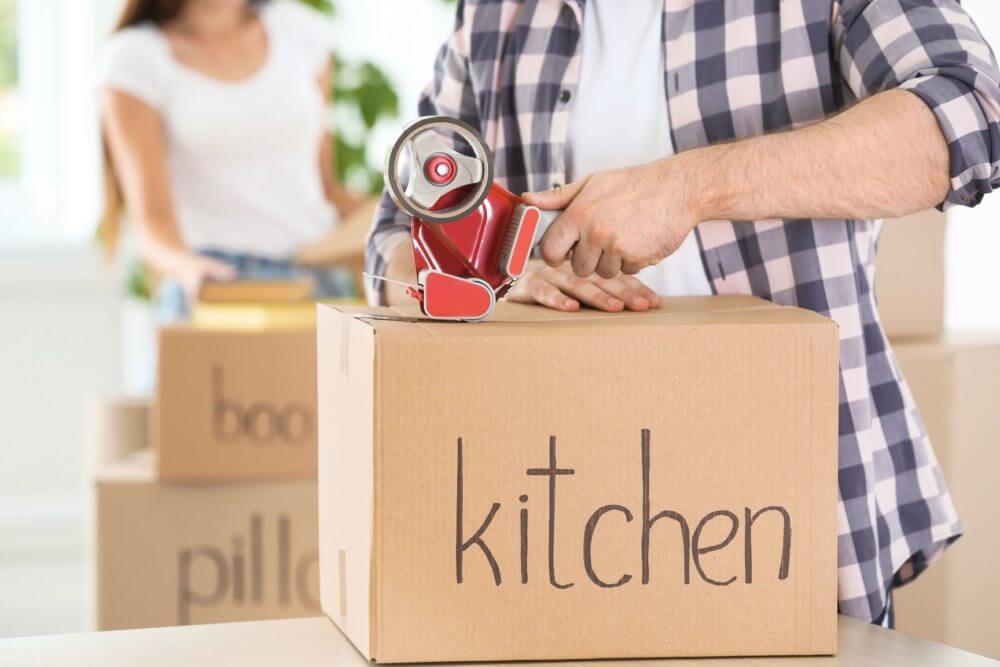 Protect Fragile Belongings
Fragile items need to be wrapped separately in multiple layers of bubble wrap or paper and placed in a box filled with a padding material. Also, be generous with padding when filling in the gaps between the items to prevent them from shifting during transport.
Pack the Essentials Separately
Essentials should be packed the last, as you will need them immediately when you arrive. For example, you will definitely need the following stuff: 
toiletries such as soap and towel

toilet paper 

a sponge and a spray for cleaning 

paper towels 

scissors 

kitchenware like plates and cutlery, glasses or cups
You will also need also basic beverages such as water, coffee or tea and sugar, milk and some cookies. 
In the evening you will need bath towels and bedsheets and spare clothing for the next day. Roll the film of your evening routine and pack accordingly.