How to Pack Kitchen Items for Moving
Why is the kitchen people's worst nightmare when it comes to packing for a move? The answer is simple: there are so many elements of different shapes and sizes that you can't simply tackle in a hurry. So, if you've ever wondered how to pack kitchen items for moving without risking any broken dishes or other items, with these tips, you will become an expert for packing kitchenware.
Choose the Right Packing Materials
Moving day preparations include gathering as many packing supplies as possible since an average household has countless things that need to be packed. We recommend that you obtain:
Boxes – borrow or buy as many large, medium, and heavy-duty ones
Duct tape
Foam peanuts
Cardboard separators or cell kits are useful for securing objects like glasses, stemware, bottles, vases, figurines, etc.
Bubble wrap
Permanent markers
Original packages for appliances if possible
If you're planning on choosing the services of a moving company, you'll be happy to hear that most movers also provide you with packing solutions using all kinds of boxes and packing supplies. In fact, you could even count on them to do most of the packing for you or provide you with some useful long-distance relocation tips. Alternatively, if you're on a smaller relocation budget, you can find a way to obtain cheaper alternatives. Start by visiting your local grocery store and ask if they have any cartons they don't need. They might be able to provide you with different materials.
How to Pack Kitchen Items for Moving – General Tips
Whether you have a small kitchen with essential items or a large one with a ton of various elements and pieces, here are some handy relocation tips regarding the best way to pack for a move:
Before placing things into boxes, start with securing the bottom of each box with more tape layers. This will reinforce the cardboard, so you can be sure nothing gets damaged while on the truck or in storage.
As you pack plates and other breakables and fragile items, cover the bottom and the sides of the box with different materials for padding – bubble wrap, foam peanuts, or paper. If you're planning to use newspapers as a budget option, remember that they could stain your belongings with inkblots of letters and lines.
Wrap individual pieces in paper for additional protection. You can use dishtowels for this purpose, too.
Small parts like bolts, screws, etc., should be placed in food storage containers, as this is the best way to be sure you won't lose anything.
Don't leave any space in a box, fill it with crumpled paper. Leaving room inside a package will allow your belongings to move around while in the truck and potentially get damaged.
Pack the dishes and other heaviest things in small boxes. If you place heavy stuff in larger packages, you run the risk of the carboard giving in and damaging the contents.
Label all packets and mark those with breakables as fragile, so that the movers know to handle them with care. You can also write down the room a package belongs to, or any additional info. If it seems more useful, use a color-coding labeling guide.
Packing Kitchen Appliances
One of the best tips for packing fragile kitchen elements is to use original boxes and packaging. In case you don't have them anymore, get appropriately-sized cartons. Check whether every box is dry and clean before you start to pack. Fragile devices in the kitchen should be wrapped into bubble wrap, while metal or plastic pieces need a double layer of paper. If you're not sure how to tackle something, don't hesitate to ask your mover for some guidelines.
Moving Large Items
First of all, decide whether you will pack and take all of your appliances to your future home. There are several things to consider when moving to a new state before you make up your mind:
Are they still new and in generally good condition?
Do you need them on a regular basis?
Does the kitchen in your new home come equipped with better appliances?
Will you have enough room for such bulky and heavy stuff on the truck?
If there are belongings you can't really make a decision about, consider putting them in a storage unit until you figure out what to do. Your mover might be able to provide you with this service until you decide whether to take these belongings into your future home, so be sure to ask for more information.
Don't Forget to Leave Several Kitchen Appliances for Use
Some large domestic appliances should be left for the last day as essentials. There are things you'll need up until you move. The blender might not be that important, but you will surely be needing as much coffee as possible during the relocation, so don't pack your espresso machine until the last day. The same is true for your toaster, for instance. Make your life easier by thinking about these details in time. Along these lines, you will also want to leave a dish or two out, so as to avoid having to use plastic cups and utensils.
Essential Items for the Moving Day
Moving is a process that requires long-term planning, especially if you're relocating from Los Angeles to Dallas because settling in will require a lot of work. A few days before the big day, most of your belongings should be ready for transport. In all that mess and chaos, you must think about your elementary needs. Don't forget to pack an essential bag that should contain:
Plates, bowls, glasses, cups and cutlery for every family member
One or two pots
Sharp knives
Dishtowels, oven mitts, dishwasher soap, sponges
Smaller appliances for coffee and food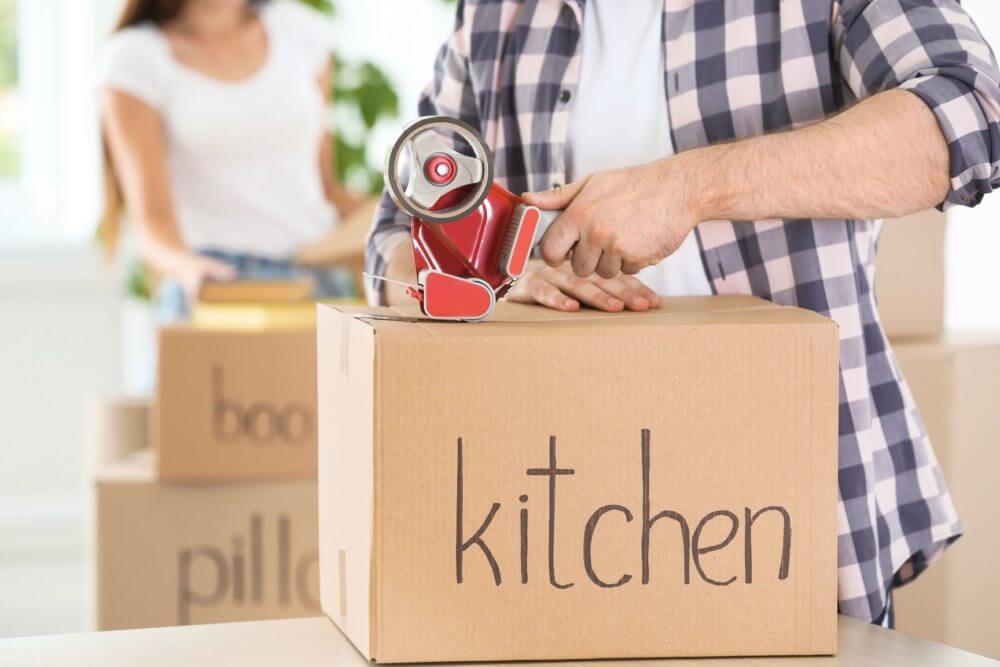 Breakable and Other Kitchen Items
Packing breakable dishes and bringing them to the new place in one piece can be a real challenge, but even if you're relocating to a new city alone, you will still require them. By using dish boxes, you'll make this process safe and easy. But knowing that these cartons are expensive, most people consider using standard boxes.
In that case, the bottom and all sides should be covered with layers of paper. Each piece of kitchenware and silverware should be wrapped in additional layers to avoid damage. Pay special attention to protecting wine glasses and coffee mugs. Place wrapped plates sideways and put sheets of protective material between them. After placing items into boxes, seal them with several layers of tape.
Finding an adequate box is crucial for pots and pans. Here's a quick guide on how to do it: if you can position the biggest pan into a box both horizontally and diagonally, and be able to close it properly, then you found the right size. Pay attention to glass lids and non-stick frying pans and provide them with proper protection with paper.
What About Food?
Empty your fridge and freezer two days before moving. Play around with recipes in order to consume as much food as you can before the moving date. You should eat perishable food first and throw away any with an expiration date that's coming up soon.
Clean out Your Fridge and Freezer Before Moving
In case there's food left in your fridge or a freezer, you should use ice packs and cool bags to preserve it during the move, but we recommend that you resort to this only if the distance between your old and your new home isn't too big. If your move takes more than a couple of hours of driving, then defrost the fridge and throw away perishable food. In fact, if that is the case, you should consider not driving at all and letting your movers provide you with a car shipping service.
Tips for Food Packing
If your relocation was last-minute and you didn't have the time to organize your food supplies, there are, luckily, tricks and tips that will help you pack:
Sort your food supplies into perishables, non-perishables, baking and cooking supplies, and glass bottles
Create a plan depending on the expiration date – eat, donate, or toss
Use small to medium-sized containers and durable, resealable ziplock bags to prevent spilling and leaking
When storing glass jars, wrap them in bubble wrap and place them in waterproof ziplock bags
Properly label each packet
Don't forget to prepare meals for the moving day
Have you found these tips helpful? Then it's time to start preparing all the items in your home for the relocation. Of course, the best way to make sure everything goes as planned is to find a reliable mover to provide you with the service you need and a guide for the relocation itself. And remember, whether your items are going on the truck or into a storage unit, using proper materials is a must.
It Might Be Best to Get Help
Whether your move is local or long-distance, the kitchen and its contents are quite demanding when it comes to packing. For professional movers, kitchenware is not a problem. You can always contact a reliable relocation company and count on their long-distance moving services.