10 Best Moving Tips and Tricks for an Easy Move
After a period of contemplating it and weighing the pros and cons, you've finally decided to relocate and find a new place. So is now the time for frantic rush and stress that is usually associated with relocation? It is possible, sure, but not so with the help of our ten best moving tips. We've covered all the bases for you, from the moment of decision to the glass of wine and a huge sigh of relief when all is unpacked in your lovely new home.
#1 Draw Up a Plan
This might sound like a cliche, but proper planning makes everything easier and doable. Apologies to generals and boxers who would disagree, but it's true in most cases. Having an idea of what should be done and when is great, but having it on paper (or in the app) is even better. That way, you can organize your schedule in advance, so everything is done properly and on time.
This makes perfect sense in many ways. For starters, you can finish all necessary preparations at a bit more leisurely pace. Also, there is the matter of price. It isn't the same if you're moving during the holidays, or on weekends, and if you're relocating on the sixth Thursday from now. Those are the circumstances that can raise the price of relocation, both in terms of money and your and your family and friends' nerves. And you should save both.
We'll get to the more serious aspects of planning in a moment. But the first thing you should do is create a calendar of preparations. There you can allocate slots to all the tasks that need to be done but also leave some room for rest so that you can pick up strength for the next task at hand. Getting organized for a move like that may aid you in combat against one of the most cunning diseases of our days – procrastination. If it is written in clear letters and by your hand, there's less chance for an "I'll do it tomorrow" attitude when this or that task arrives. And the timely completion of every task makes the next one easier.
Put Your  Finances Together and Know Your Budget
The first slot in your newly-made organizer should be reserved for budget planning. Knowing where your financial limits are will allow you to have a general idea about what kind of moving services you can hire. Finances may require a checklist of their own, which could help you figure out whether you can hire the movers you found the best for your needs, enroll professional packing services, or you'll have to pack your things yourself. Keep in mind all the possible fees and costs that might arise at one point or another. Those are among the most important questions to ask the shipping company you choose.
Choose the Right Moment to Move – It Matters
Summer is the most expensive season for relocation, if for nothing else, then a sheer number of people who opt to move in fair weather and when the school is off. Holidays and weekends, as said before, are also pricier. Do your research, it may be that this or that company has special offers on a specific period or even day.
Don't Leave Everything For the Eve of Relocation
Though you may consider yourself capable of finishing everything in a single day or evening, you most certainly are not. Face it, anybody would break down under a realization that there is only a couple of hours to do a few weeks' work. Handling last-minute moving is possible, but we would not recommend it to anybody if it can be avoided.
Finish Administrative Issues
Another important but often overlooked matter is, for example, change of address. People tend to forget to do that for a while, so don't be surprised if you receive mail sent to the previous owner. To avoid all kinds of mix-ups with bills and other paperwork, make sure to finish business with the administration on both ends of your upcoming travel.
#2 Sort Stuff Out
The next thing to do is to sort of document everything you have in your house. You need to do that for every part of your home, from the hallway to the kitchen. Use notepad or textbook so that you can write down all items on the spot. Then you may take all that can be taken by hand to one room and take a break before the next leg of your preparation.
#3 Decide What Items You Need to Take With You
An important point in preparation is separating things that will go to your future home from those that won't and shouldn't. You certainly should take with you that signed Michael Jordan jersey, but beer can collections should go. You wouldn't want to start life in your new home with stuff falling on your head.
Make careful choices, thinking first and foremost about your next home and what you'll need. This goes for small stuff, like spoons, for example, as well as for big ones such as furniture.
Furniture is quite important in this regard. You're likely to take your fridge with you (and make sure to unfreeze it before the travel), but sofas and tables may be a different story. If possible, you should go to your new place and do a bit of measuring. You may adore your couch, but if it wouldn't fit in the house, it's better to give it away than to let it disrupt everything else. Or leave it in storage for who knows how long.
Then Get Rid of the Items You Don't and Won't Use
This part may be tricky due to certain emotional value of many household items, but it is very significant nonetheless. Enough breathing space when you start anew is much more important than every single issue of this or that magazine that proudly resides in the attic and has been read perhaps once.
A good way to part with unnecessary stuff is a yard or garage sale. That way, you can even cover some of the relocation expenses. Another option is giving stuff to charity, which would not only make you feel better but can be financially beneficial to you via tax returns, as well.
Of course, if you've called your friends to help you pack, make sure it's worth their while. Give them something for free, or at least at a discount. Making them first-choice buyers is also a nice incentive.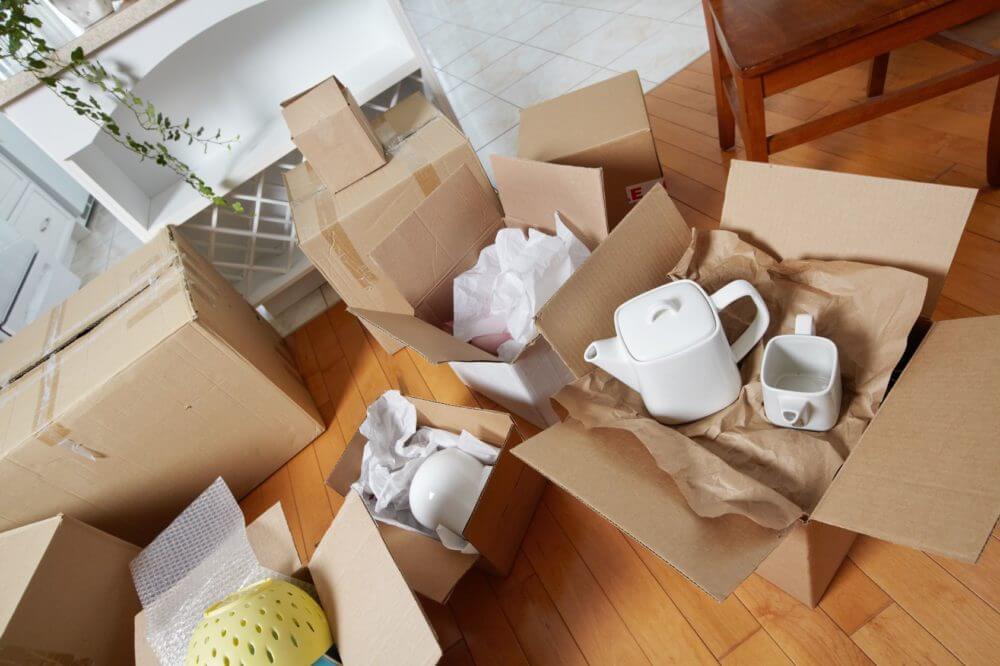 #4 Packing and Boxes – Learn How to Pack Your Stuff Properly
Certainly, the most exhausting part of the process, packing, is as important to the whole process as planning. When done correctly, all your belongings will arrive at the destination safe and sound. Among the most cited advice is to put electronics in their original package, if possible, or to cluster all the stuff from the same room in the same box. Also, a general tip is to put heavier stuff, like books, in smaller packages. It'll ease the burden of carrying them to the truck, and at the same time, allow more space in larger cartons for smaller items.
Boxes and Where to Find Them
When it comes to moving, it may seem to you that there is never enough of two things – time and boxes. The good thing is that technically, you can use anything that looks like a box for transporting belongings. Crates, bags, suitcases, and alike will all do.
If you've set your mind on cardboard, however, you can check for some specimens at the local liquor store, or at the recycling spots. They always have a stash of used up packaging, and you might get it cheap or even for free.  It is not a must that they are in perfect condition, but it's better if they are. You wouldn't wish that a package with your best glasses disintegrates while you're carrying it to or from the truck.
A Few Expert Moving Tips on Packing
As always, there are little tricks of the trade that bring significant gains. In this regard, do not fold your clothes but roll them up. It'll save both time and space.
Likewise, don't bother with picking jackets from the closet one by one. Instead, while they're still hanging, just put them in a big garbage bag, and you just saved yourself a lot of effort.
On the other hand, bulkier clothes and linen may be safely put away in a vacuum bag.
Another useful tip would be to take a photo of your electronics before you disconnect all the cables. Easy to see why, especially when you unpack and have to reconnect it all.
#5 Label Everything
Once everything is safely stashed, tag every package. Use as many labeling options as you see fit. Tags in different colors and numbers for each of the rooms will make unpacking much more relaxed and less chaotic.
#6 Protect Your Dearest Belongings
You should take extra care for belongings that hold a particular value, monetary or sentimental. Take as many of those as possible with you instead of putting them in a truck. When that is not an option, as might be with certain jewelry or crystal, separate packages might be the best solution. It may even be wise to pay the movers to do that part for you. Some extra money spent is well worth the risk that otherwise would exist.
#7 How to Leave Your House In Perfect Condition
This part is quite important, especially if you're leaving a rented house and want your deposit back. There are lots of small and free tricks online on how to fix the track of your table in a landlord's rug or to fill a hole in the wall. After all, the deposit will surely come in handy.
If Possible, Always Check out the New Home
If you can, pay a visit to your new home before you actually move in. Take pictures of every part of it, so that there are no surprises about eventual pre-existing damage. Do some advanced planning on the interior. That is particularly important if you are moving with pets, for having an environment similar to one they know will, in many ways, ease their adaptation process. And don't forget to change the lock as soon as you move in.
#8 Choose a Reliable Mover
This is part where research is paramount. Browse through companies on offer, and then choose the right one for you. Take account of the price, but also other things, such as whether they offer storage or some quirkier stuff. For example, will they accept a garbage bag in their truck?
Customer reviews are another potential helpful resource but beware of the fake ones.
#9 Sit Back and Relax
With all else done, you should take a moment to sit back. Relax, have a glass of wine. Meet and say goodbye to your friends. You spent a lot of time with them, and it is a question when you'll see them again. So don't miss that opportunity, come what may.
At this point, you'll have a moment to think if there is anything else that needs to be done at the last minute. If you followed our tips, it's likely that there won't be, so you'll have more time to spend on that glass of wine.
#10 Moving Tips for the Big Day
When that day finally comes, be ready for the arrival of the movers. It is well-advised to be well-stocked with water, especially if you're relocating at high temperatures. Know what is where and what goes where. Know what goes home and what goes to storage.
Pack the Essentials Separately
Always be sure to put essential stuff, such as toiletries, snacks, and everything else you may need during the trip in a separate and easily recognizable package. The same goes for the kids' things if you're relocating with children.
Heavier Boxes Go In the Truck First
One of the most basic rules (and here is given again, for free) says that heavier crates go to the bottom of the cargo area. You don't want anything to be squashed, right?
Summary
So there you have it. With the use of our all-encompassing guide, you'll learn all you need to know on how to turn the relocating experience from stressful to a bit tiring, at worst. So, plan out all your activities, declutter, employ proper packing techniques and you'll already be halfway to starting a new and exciting chapter in your life.