Cost of Interstate Moving – Things to Know
Deciding to move to a new home in another state is a big step in every person's life. But do you how much money you have to put aside for it? Because of the distance, the average cost of moving cross country is generally higher in comparison to local relocation. This way of relocating is far more exhausting and complicated. That being said with the help of our detailed guide, you will be able to plan your expenses and complete your relocation within the limits of your budget.
The Average Cost of Interstate Moving
Before you decide to move to another home, it's crucial to get organized to move and determine a budget to make sure that your long-haul relocation expenses don't get out of control. Have you wondered what is the average cost of moving cross country? According to statistical data, a family spends an average of $2000 for an interstate move. Of course, the price of your relocation will depend on several factors and may vary significantly.
The Key Factors that Impact the Average Cost of Moving Cross Country
The major elements that affect interstate moving costs are:
The weight of the shipment. In case you decide to bring all your belongings with you, don't be surprised by excessive charges. Instead, try to declutter your home before you start preparing for the move. This way you will get rid of all unnecessary belongings, and your relocation won't be as expensive as it would be with all the stuff.
The distance between your current location and the new home. When the distance is longer, your relocation will naturally be more expensive.
Labor expenses. These include additional services, such as packing services, furniture disassembly, and reassembly, renting a storage unit,
Besides, you should also consider:
Travel fees. These will differ depending on whether you're shipping your car or driving it yourself.
Liability and valuation coverage. Interstate professional movers must provide you with two coverage options: Full Value Protection and Released Value Protection. The Full solution covers expenses in the amount of the item's current value, while the Basic option covers 60 cents per pound cargo liability.
Third-party insurance. Consider this option in case you're shipping highly valuable items and you want to have your own insurance. Make sure to save complete documentation including photos.
Storage. Holding your belongings before, during, and after the relocation process can be very useful in the case of a long-distance move. Ask your company about their rates and consider using this service as an additional aid
How to Calculate Total Expenses
The exact amount of total relocation expenses is impossible to determine since overall costs are calculated on a case-by-case basis. However, it is possible to partially estimate the approximate expenses using certain formulas. For example, if you are relocating to a place 1000 miles away from your starting point, then the price will vary between $1500 to $4200, depending on the size of your apartment or house.
Situations that Require Special Caution
Hiring a reliable mover is always the right choice, but be aware of several things before the final decision:
Avoid hiring a company that cooperates with subcontractors, since this can bring you additional expenses for movers that are not full-time employees of the company.
Check and make sure that your mover carries insurance as a necessary part of the relocation process in case of damages or workers' injuries. Trustworthy companies always take care of their workers.
Be sure that a mover is reputable and legitimate in order to prevent unprofessional behavior.
Does It Cost Less to Complete Moving by Yourself?
If you can organize the move yourself, be aware of interstate moving costs that cannot be avoided. Some things will always be expensive, even with the free help from friends and family when it comes to packing, you should have in mind the following factors:
Truck rentals. The final price depends on the trip length and the number of days you will be using the vehicle. Be aware of some extra fees, like additional mileage fees, tolls fee, and truck cleaning fee in case you return it dirty.
Truck rental insurance. It can go up to $150, and you should ask and find out what type of damages are not included in it.
Fuel expenses. You will be required to pay for gas yourself. Don't forget to check how expensive the gas is in the states you are driving your truck through.
Hotel expenses. You need to sleep, there is no way around it. Depending on where you're planning on taking overnight breaks, accommodation expenses can amount to a lot.
Relocation help. In case you need professional help, you should set aside $90 per hour for three men. Keep in mind that you might have to pay extra for the travel time.
Top Ways to Lower the Average Moving Costs
Despite high total expenses when it comes to long-distance relocation, several options will help you cut the total price of the move:
Choose an affordable and professional interstate mover
Plan your long-distance relocation. If you are not working on a strict deadline, choose the best time to move to avoid high expenses.
Reduce the number of your items to the minimum. The fewer items to pack and transport, the lower the amount of money you will have to pay. Also, you can always sell or donate your old things. Giving your stuff for free will make you feel good, and in a way, you will help those in the need.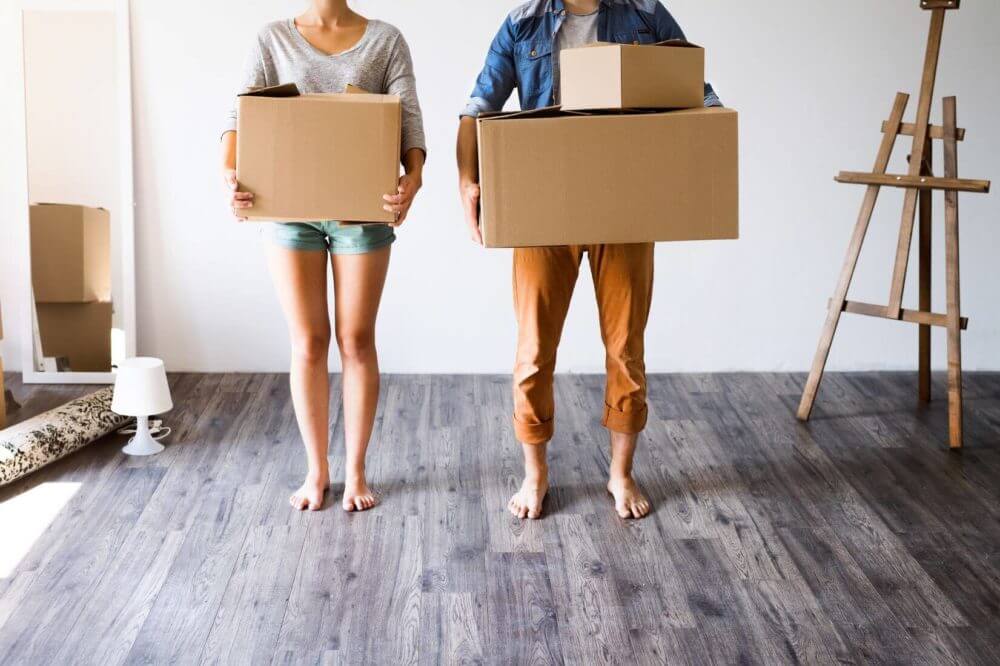 Interstate Movers vs. Local Movers
The American Moving and Storage Association has estimated that the average price of interstate moves is about $4,300 and the average cost of local relocation is about $2,300. This price, in both cases, includes 7,400 pounds of cargo. However, keep in mind that this number can vary greatly on a case-by-case basis.
Average Local Relocation Costs
After hiring a trustworthy, professional mover for a local move, you will be charged according to the number of laborers and trucks. For example, expenses for a four-bedroom home will be around $150-170 per hour. That includes four experienced workers and a big vehicle. It is a basic average price without additional costs. You should know that a large home with four bedrooms can take more than 12 hours to relocate from one city to another, and the average expenses will be around $1800-2500 without packing. Companies charge that service additionally.
Additional Services Will Cost Extra
Intrastate relocations have additional expenses too because companies charge extra for additional services. And these costs will depend on your requirements, special conditions, and tips for movers.
Packing and unpacking services are usually around $25-35 per hour and, in most cases, include basic packing supplies.
Additional money will be required in case of loading bulky and heavy items, or if you live on a high floor in an apartment building.
If you're satisfied with the job them overs have done, then you should prepare tips for them.
Choose a Reliable Company – Choose a Safe Move
If you are planning your interstate move, we hope that we gave you insight into general expenses. However, if you would like to know a more precise amount, the best option is to contact your chosen movers and get a moving estimate. You can also do so online by filling out a form.