Wanna Know How to Pack Fragile Items Like an Expert? Here are Some Professional Tips and Tricks
The main problem with the breakables is, well, they are breakable. How to pack fragile items for moving then, if the possibility of destroying them hangs over your head? Your favorite china could be easily cracked, the mirror you inherited from your grandma' broken in the blink of an eye, ikebana vase accidentally shattered. Not to mention what can happen to that antique collection of figurines from the market you are so attached to.
There's no doubt that moving fragile items is an intimidating task, assuming you would like to preserve not only the irreplaceable heirloom but more ordinary things you need when going across the country, as well. That's why we're here to help you with packaging and storing some of the trickiest objects you might have in your home.
Packing Fragile Items for Moving: Preparation Process
Packing fragile belongings should start with a thorough plan. Skipping this one might be the main reason why relocating is so stressful. When it comes to handling the breakables and getting organized to move, one of the best relocation tips you can get is making an elaborate inventory list. It is a necessary preparatory step that will clarify what you should get rid of and what are vulnerable objects that should be even more carefully protected. Dividing them into piles based on their monetary value can also prove beneficial while transitioning. If you're worried about how to move to another state safely, we recommend taking photos of expensive things first, proving their condition, and writing down where they're packed in. Everything else can be stacked together. Putting extra attention into packaging your most delicate belongings is undoubtedly your modus operandi if wondering how to move efficiently.
Choosing Right Box Size
Whatever the reasons to move, there's an unexplainable urge to have as much space as possible for all our worldly possessions. We want big trucks, big packages, giant suitcases, big bags. You name it. We want it big. Whether it is the need to have something familiar when into the unknown or just the fear of leaving things behind, keep in mind that being rational is the crucial ingredient to a stress-free relocation.
Learning how to choose the best-sized boxes is quite simple: they should meet the requirements of the dishes you're planning to move across the country. That being said, try to avoid extra-large ones that will tempt you either to overstuff them or to leave too much additional space around objects packed inside. Ideally, to keep the package safe, your boxes should allow two inches of extra space on all sides.
Consider Dish Boxes for Your Most Fragile Items
So, you want your most delicate belongings to have a safe journey to their new home, just like the rest of your belongings. How do you pack fragile figurines or other similar collections requiring plenty of your attention? If you're relocating for the first time, there are many relocation mistakes to keep away from to ensure their smoothest transition possible. The biggest one would probably be placing them into standard cardboard packages. Instead, make sure you purchase a few dish packs specially designed to protect your breakables. Even though a bit more pricey, they are more durable and stronger, thanks to their thicker and sturdier material.
What Not to Pack
Even if you are relocating to another state by yourself, figuring out what and what not to pack is an overwhelming task, especially when you're already over your head with the packing process. However, when your home is packed with stuff and dishes you barely use, the relocation process will be much more tedious for you. Maybe this is a perfect moment to contemplate transporting only the vital belongings to your new home and letting go of the ones you are holding to out of habit. Despite the hassles, you can use many relocation hacks, as long as you choose to donate unwanted things, sell them, or give them away.
Packing Materials
Finding the best packing materials for fragile items should provide safety during transportation and protection of such belongings. This should be your guide when thinking about what to use to pack fragile items, but consider these the essentials:
Small to medium cardboard boxes,
Lots of packing paper (skipping the newspapers might be a good idea if you don't want dirt and ink all over your stuff,)
Bubbles (but think about other eco-friendly alternatives, too,)
A good quality tape.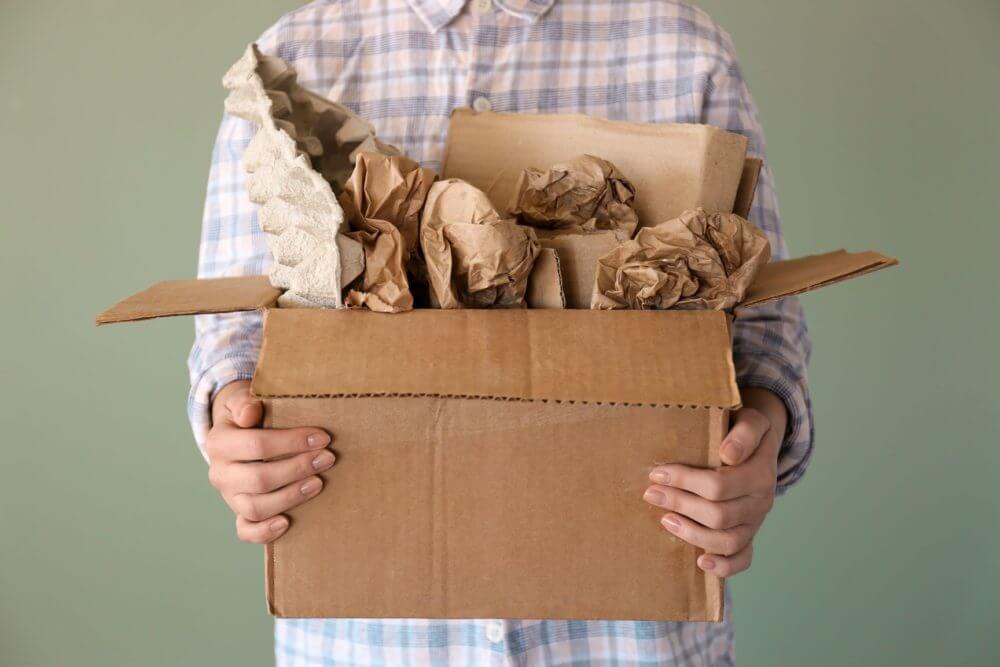 How to Pack Fragile Items for Moving: Basic Steps
Packaging fragile items is a delicate piece of work, but following these simple steps will provide you with the easiest way to pack for a move, without breaking any of your vulnerable objects on their way to the new home:
Before packing, check carefully if the cardboard is damaged,
Strengthen all the corners with lots of tapes if you don't want them to soften and get damaged due to lack of support,
There can never be too much paper, so use it to your heart's content,
Prepare different protective covers for your vulnerable belongings,
Layer the bottom of the box with the padding material of your choice,
Objects such as glasses, vases, and jars should be stuffed before packaging,
To ensure nothing is crushed, always put the heaviest things on the bottom,
Remember to leave enough space for another cushion before closing the box.
How Do You Wrap a Fragile Object?
Nestling your breakables will not cause much trouble, but it will certainly ask for your patience. Whatever covering material you have, it is essential to cover the object fully if you want to know how to wrap fragile items correctly. Furthermore, don't stack them too close together or leave too much space either. The rule of thumb is to find a proper distance to prevent them from shifting.
Wrapping will be a deciding factor in how much they will be protected during the move. Although using a lot of bubbles might not be the solution when talking about how to save on relocation costs, it is advisable to have it at hand since it provides the best protection.
And Glasses or Any Other Delicate Material?
Here are a few simple tips on how to handle the most popular vulnerable objects:
Plates should be stacked vertically, individually wrapped up in paper or bubble wrap. Placing between each item will ensure nothing can move around. As a padding material for the top and bottom of the box, you can use crumpled pieces, as well, or any other alternative soft material.
Filling glasses with crumpled paper before wrapping them is crucial. Only then should they be wrapped individually by rolling them from one side of the sheet to the other. If they are not too delicate, you can stack some glasses in bundles.
When relocating fine art, paintings, and pictures over 3 feet in size, they should be secured individually with a plastic cover and a blanket. It is enough to wrap them up extensively with crumpled paper in between each piece when it comes to more petite frames.
Lamps should be boxed separately, with a lampshade flat side down, protected with tons of protective padding, while the bases can be covered with a plastic cover, if needed, for more delicate parts.
Check the video below for a short demonstration of a proper way to handle your dishes for a move.
Labeling Your Boxes
If hiring movers, labeling your belongings clearly with "fragile," "handle with care," or things like "glass" and "collectibles" will draw their attention and ensure they take good care of your belongings. You can even leave your fragile pile gathered in one place and efficiently direct your movers to the boxes that should be handled with special care. This one is a great moving day tip if you are relocating on your own. But if you believe you're putting your belongings at risk of damage, don't hesitate to contact a long-distance moving company to do professional packing for you or moving services if needed. Bypassing the long-distance services they provide may save you little money, but the cheapest solutions are not always cost-effective. A reliable moving company is a more efficient one in the long run when handling your relocation needs professionally and safely. Every professional cross-country mover will clarify any ambiguities considering the relocation process, so if there are any questions to ask your movers, go for it.
Prepare The Breakables for Storage
At some point, you'll have to come up with a new life for the belongings you are still deeply attached to because not all of them can go with you. Storage services might not be the cheapest way to move out of state, but they are still a great way to keep the stuff you love most safe and sound. "How do I protect my fragile packages?" is what you are probably asking yourself when planning on relocating with these. Please consider the time required to remain there, so it's essential to place them in something sturdier than regular cardboard boxes due to various factors such as variable moisture levels and low temperatures.
The Price We're Paying
In stores, products are measured by money, but these measurements are entirely different from our private lives. They need to be taken care of: maintained, cleaned, organized. Furthermore, we often worry about our material possessions not being broken, scratched, or even stolen. So, isn't it clear, everything we own costs us more than we realize? We buy things we are so fond of with the time dedicated to them.
That's precisely why we're here, stacking our figurines one by one, patiently. Cleaning the dishes and looking forward to unpacking them equally clean. Going through the list, checking we didn't forget anything. When it comes to cross-country moving, no one wants to worry about sensitive household objects when moving long-distance, and that's why you need these steps.
Be sure to use them, and you'll pull through any move, no matter where you're going.