Moving in with Your Significant Other
What better reason to move in together than to start a new chapter in your relationship. Moving in with your significant other is a whole new life path you're going to embark on. If the physical distance is what is separating you, you should weigh out all the pros and cons of this major step. You should also consider who is in a better position to move. You should be absolutely sure that you're both ready for this. If even one of you has second thoughts, it's just a matter of time when the conflict will arise.
Make an Honest Decision About Moving in with Your Significant Other
So, without second thoughts on any part, you should be getting prepared for a lifestyle change and a lot of compromises if you're planning on living together, especially if you're moving from a small town to a big city. If one of you is changing the location and moving in with the other, love shouldn't be the only reason.
You should also consider the quality of life one of you can expect if relocating. Also, you have to be sure that you are ready to start living with him/her. We aren't saying there won't be unpleasant situations and conflicts and do not think that there won't be. But they are perfectly normal when more than one person lives in the same space, and you should be prepared to overcome them together.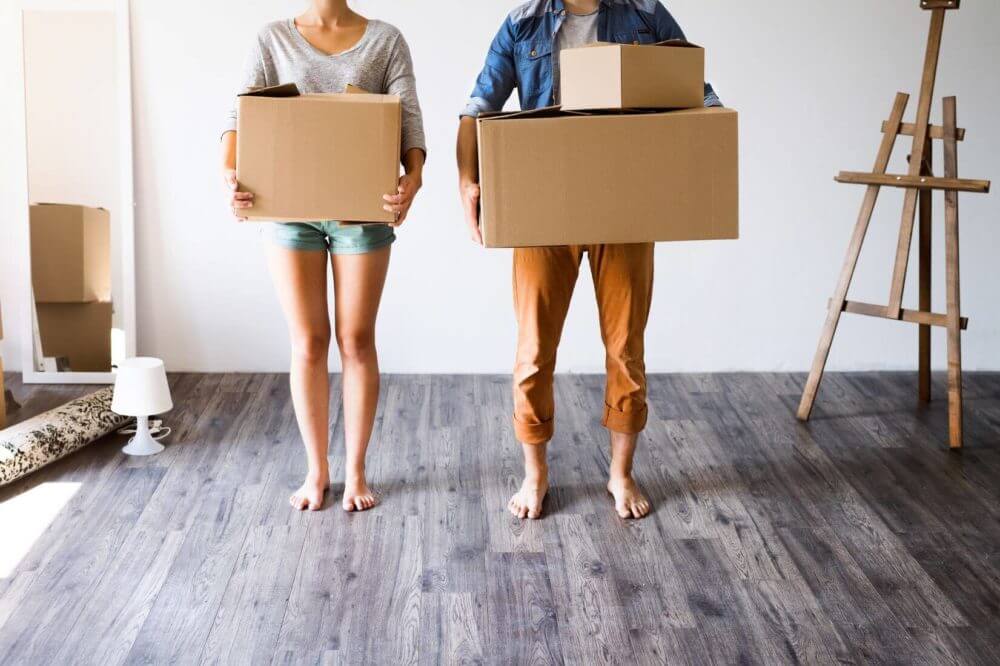 Discuss the Reasons for This Step with Your Partner
Maybe the most important part of this decision is the motive behind it. While love alone can be a sufficient reason, and there is nothing wrong with that, you should be aware that a lot of things are going to change. You are going to move away from many familiar surroundings and routines. If you find a better job opportunity, you will have to adjust to the new environment too.
But relocating for a better existence with the one you love is a win-win combination. Even if you don't have a job from the beginning, you should at least have a prospect for one in the future. Still, having work waiting for you is one of the things that'll smooth your transition from boyfriend to the effective husband in the making.
Share Your Thoughts on a Relationship
There is lots of stuff to think about and discuss before getting into a living together arrangement. One of them is a big talk about the future. Making a big step in shacking up is the most crucial one in the lives of many couples. What do both of you want from the future? Do you see it the same way? Will you share just space or the entire life? So speak with each other and work on all potential issues you feel might arise.
Signs You Are Not Ready for This
If you don't have a whole plan worked out in your head for all the life changes you will have to make, then you are not completely ready for this. Do not make the mistake of landing there just to wing it later. You might get overwhelmed by all the changes, and that is not good for anyone. If you have a prosperous career in your city that will suffer if you move to another one, then you should rethink this decision and try to compromise.

Don't take the decision to move in with somebody lightly. It's not only the relocation, merging home, or convenience, it is a whole new living experience for both of you.
Create a Moving Plan
When all the pros and cons are taken into account, and you decide that relocation is the right decision, you should prepare for the actual process. When moving in with somebody, know that your shared home can take up just so many of your stuff. This is where you will have to organize your belongings and assess which things you like and should bring to your new apartment, and which ones are excess. That doesn't mean that you should get rid of the items that have sentimental value. If there is not enough room or use for them in your new home, you can always put them in storage until you find a better solution.
Have a Good Financial Plan Ready
If you or your partner lived in one place for a while, you would have a clear picture of the monthly expenses. You should discuss the joint budget for the rent, bills, and food at least. If one of you is in a bad financial situation, you can discuss options like a loan, or splitting the monthly expenses in a way that is affordable for both of you.
If you're relocating for a job and your partner is coming with you, then great.  However, if you're moving across the country to live with your partner, consider getting a job before you move so you start your new life without any financial problems. 
In case you have a problem covering all the costs, try to change some costly habits such as smoking, at least until you can stand on your feet. From now on, you won't share just a living space, so be sure that all money issues are settled and agreed beforehand.
Send Away Stuff You Don't Need in Your "Together" Home
There is bound to be some excess among your belongings when moving in with your significant other. If you have a lot of furniture, discuss which one is better for your shared home. You might have some better pieces among your things. You should not omit the fact that transporting your things is going to cost you, so count that in your projected relocation budget. That means that you should bring the stuff that will be useful for both of you.
You can rent a storage unit if you are not ready to depart from some of your belongings. If, on the other hand, you want to get rid of some possessions, you can donate them, sell them in a garage sale or online, or dispose of them on a local scrapyard.
What You Shouldn't Bring to Your New Place
You shouldn't bring double items. Another sofa or TV set is unnecessary, and it will cost you more to transport it. Also, all of the things you don't use anymore are pure excess. Declutter and organize with your significant other before packing your belongings.
Make Time for Love, Everyday Life and Yourself
The biggest change in all of this is that you're gonna start living with someone from now on. And not just someone, with your significant other nonetheless. While this can be a make or break situation, if you are in a healthy relationship of two conscious adults, every situation is solvable. You should adjust to each other's schedule and daily habits while not losing the core of your personality. If only one of you is ready to compromise, that is not viable for long. Never forget about all the little rituals that will show your partner how much you love them and how much your relationship means to you.
You'll be inclined to do more couples stuff, like double dates and such. Think of it as a really good way of meeting folks. Or find a creative way to spend money on hobbies together. After a while, you may wish you did it all before.
"Me" Time Is Very Important
As much as time with your partner is important, "Me" time is vital for a healthy relationship. Have time to devote to yourself and your small rituals or hobbies that you like and that do not involve your partner. This way you won't suffocate each other. 
Having some privacy in space and time of your own will allow you to grow as a person, but can have one more plus to it. You'll always have something new to talk about when you come out of the room. After all, living together isn't just paying bills, ranting about work, sharing the chores, and watching TV to sleep. It's a lot more than that. Never forget the importance of personal space after getting to live together.
You'll Learn About Your Partner
One of the good impacts of getting to live together is that you'll have to share even more than before. You'll certainly find out more about your lover. More really personal stuff. Sometimes you may feel like it's a different person in the place of your boyfriend or girlfriend. At first, you may not like what you see, but as you get to know new (and real) boyfriend/girlfriend you'll surely feel differently. Making things work with every day will bring you closer. The most important thing is that both of you want it to work.