Best Moving Hacks to Make Your Life Easier
Did you know that the average American changes home 11.7 times in his lifetime? With such frequency of relocations, it's safe to say that moving plays a significant part in the life of every US citizen. You've probably stumbled upon a few life hacks on the Internet, but no less important are the moving hacks. You will need to master them if you want to actually enjoy the process of transferring your entire life to a new city or state and adapting to an unfamiliar environment.
The course of relocation, especially a long-distance one, is often unpredictable, and it can get pretty overwhelming for some. To avoid that, create a checklist that will help you track your progress and remind you of the tasks that await you. If you are tackling the whole thing on your own, you will have to find the right materials, safely box everything up, and clean the old house or apartment. When you unload all the stuff in your new home, unbox everything like a boss.
To help you out, we've made a list of handy tips and hacks that will speed up the whole process and make it seem like a walk in the park.
Thorough Preparation Is the Key to a Smooth Relocation
"By failing to prepare, you are preparing to fail."
Let's say that the relocation process is like solving a jigsaw puzzle. You need to be patient and have all the pieces fit into their designated places in order to get the perfect final picture. There are many parts to it. To not get overwhelmed while getting organized to move, you should create a checklist. It will track all you should do, all you already did, and the task deadlines.
Depending on how much time you have until you move, your checklist will vary. If you have more than eight weeks until the relocation, you can take it easy and slowly organize everything, but a last-minute relocation can get pretty hectic. You have so many tasks to think about, like will you relocate on your own, or hire a trustworthy company to assist you? Are you shipping your car or driving it? If you are relocating with kids, you will want to contact their school and notify them about the move. You have to think about gathering all the documents, changing the address, finding a doctor. The bottom line is, the earlier you start preparing, the less hectic everything will be.
Besides, go over everything because you would be surprised how many of the most commonly forgotten things to pack you use on a day-to-day basis. Personal belongings such as passport, ID, bank records, shouldn't travel in a truck. Instead, they should be in a folder that you will carry with you. One of the additional pro tips is – set aside items you will use throughout the whole relocation process. It will save you the trouble of going through your stuff when you need something.
Create a Useful Toolbox
Think in advance about all the things you will need and use when the big relocation day comes. One of the most common moving mistakes is forgetting to create a "toolbox" that will contain essentials that will come in handy during the whole process.
Regardless of whether you are using professional packing services or doing everything on your own, you will probably need tools such as scissors, tapes, and screwdrivers. Get a special container for those items, because you will work with them until the last moment in your current house or apartment, and you will need them for unboxing on the first day in the new place.
You can also include markers, a hammer, flashlight, and batteries in it if you think they can come in handy with disassembling and assembling furniture. Having this type of toolkit will be an inevitable factor for a stress-free relocation experience.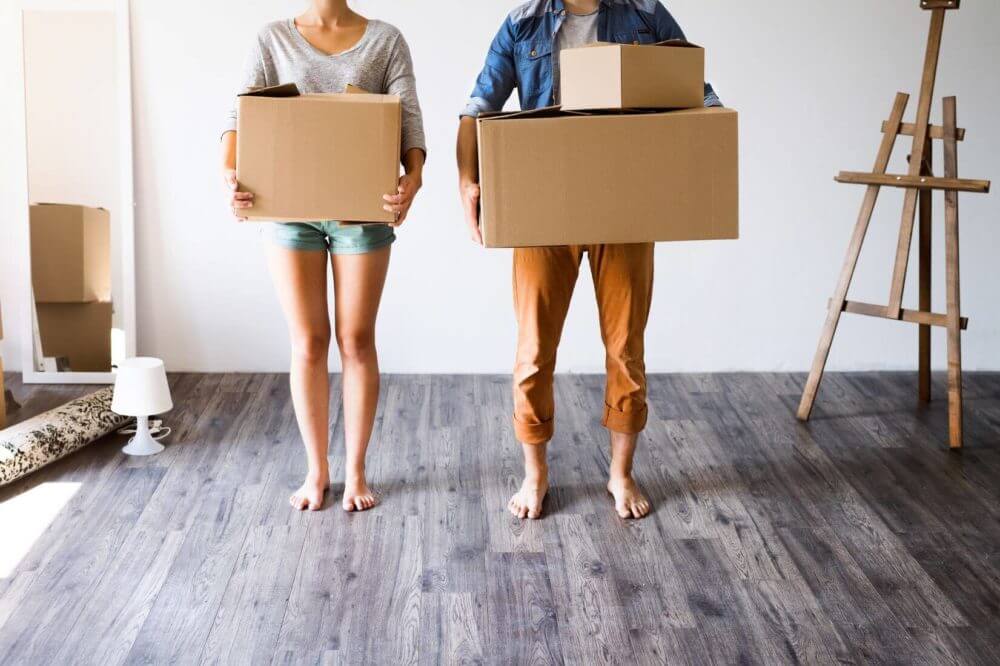 Donate and Lower Your Relocation Costs
Before you start wrapping and placing your belongings in containers, it would be smart to declutter. When living in one place for an extended period, people tend to hoard a lot of junk they don't need, and relocation is the perfect moment to get rid of those.
How to figure out what not to pack and bring with you? Start by creating a list of all the double objects you have. Go over those clothes, shoes, and furniture you don't have a purpose for, and if they are in good condition, you can sell or donate them.
Organize things for donation on one side, and on the other, you can put everything that will be up for a garage sale. What is left are belongings you should take with you.
Moving Hacks That Will Help You Choose and Use Boxes the Best Way
Are you in a dilemma about how to choose the best-sized boxes? There are so many alternatives, so many crate sizes, and cardboard densities to choose from. Objects in your place vary in size and the level of fragility or durability. Your containers should, too.
Purchasing supplies in bulk can be one of the perfect life hacks for moving. This solution is for all folks who don't have the time nor patience to go and get each supply individually. Many companies sell moving kits, and you can get one depending on the size of your move. They come not only with different types of crates but with tape and markers, as well.
If you'd rather get different supplies separately, remember that the smart move would be to buy uniform-sized boxes. Having cartons of the same size will make the task of loading and stacking the truck easier. You won't have to play real-life Tetris and figure out how to fit everything perfectly so that cartons don't move around during transport.
When loading your cartons, think about their weight. Overfilling them has many downsides. Primarily, they will be hard to lift; if you are relocating on your own, you might get injured when trying to pick them up. Also, overfilled and heavy cartons can get torn or bent out of shape, making it almost impossible to move them without objects falling out.
Let's say you are thinking about packing your books and taking them with you. Consider putting them in several smaller containers. Avoid filling big containers with heavy items. Think about it practically; how will you load and unload those? You would require sufficient manpower and appropriate professional equipment, and if you are relocating on your own, obtaining that can be tricky. To avoid complications, get big crates for lighter pieces such as pillows and blankets, while objects such as books can go in smaller ones. Keep in mind that those heavy containers should go on the bottom of the truck so that they don't squish the lighter ones.
Do you have some fragile objects that you would love to keep as safe as possible during the relocation? Maybe you are thinking about how to pack wine bottles for relocation or some other pricey liquor? To do so, you should get specialty crates. They will have additional dividers on the inside, fixing objects from both sides, and giving them all the necessary protection. Bottles and glasses won't bump against one another and accidentally break because there will be a carton wall between them.
However, if your budget for materials is limited, there are a few ways you can save up.
Make Moving Cheaper by Using Free Supplies
Thinking about your savings account and staying within the planned budget is something most people strive to do. Whether you are considering relocating out of state on a budget or relocating to another city, you will look for a way to save up.
Start with obtaining free packing supplies. Ask your friends if they have some boxes to spare, or maybe some leftover duct tape, markers, bubble wrap, and padding materials. For extra stuff, you can check out local grocery shops or coffee places and see if they have some cartons you can use. At these places, you can get crates of various sizes, from small ones that can accommodate picture frames and jewelry, to huge ones that can fit many blankets and pillows.
The Internet can be an excellent place to track down some free materials. Go to websites such as Craigslist and Facebook groups and check if anybody is giving away free stuff you can find a purpose for.
One of the useful tips is – always gather more materials than you think you will require. You will want to avoid running around at the last minute, looking for more supplies. The stuff you don't want, you can easily donate, return, or give to somebody who is relocating soon, as well.
Packing Hacks for Moving You Can Use
Many objects in your residence can have multiple purposes, and they can be used in the boxing-up process if you know how. Let's go over some of the packing hacks for moving that have proven to be useful in the relocation process:
Placing knives in potholders will prevent sharp blades and pointy tops from cutting through containers.
Put spices inside big pots. This will help you utilize space more efficiently. Small jars can be put inside crock pots or any other cookware. Put lids on top and get rubber bands to keep them fixed.
Small objects can be placed in zip lock bags. When you disassemble furniture, you can put screws in small pouches and tape them to bigger parts.
Get plastic wrap to keep drawers closed. If you don't want to disassemble wardrobes or small storage chests, fix them with plastic. That way, you can keep some stuff inside.
Rolling your clothes instead of folding them will save you space. Consider the weight of the furniture, and don't overfill the drawers. This technique can also be applied to utensils.
Use press 'n seal or egg cartons to prevent jewelry from tangling. Once you've put everything in egg cartons, don't forget to tape them.
Do you have a lot of shoes? Stuff them with small items or socks, and put dividers from wine boxes in the crate and put your shoes in them.
Leave your clothes on hangers, save some time on unhanging, rehanging and packing, place them inside large garbage bags, and then load them into transport trucks.
Empty toilet paper rolls can be used to organize cords and cables. Just put them in empty rolls and prevent them from tangling. You can also work with a paper towel and wrapping paper rolls. Don't forget to label them so that you know which one belongs to which appliance.
Prevent liquids from spilling all over your bags by putting plastic wrap over the bottle opening. Your shampoos and soaps will stay safely inside the bottles, and you won't have to worry about the mess.
Cotton balls are a friend to anybody who is transporting cosmetics. Put cotton inside your makeup, and it will prevent pressed powders from breaking.
Space bags will help you maximize your storage space. Also, they will minimize box usage. Put in them the seasonal clothes you won't wear in the near future. Zip-locked bags will keep them safe from any liquids, moisture, or dust during transportation.
You will handle different types of furniture differently, and that will depend on their size, shape, and fragility because some objects require extra attention.
Protecting Fragile Belongings
Every household has some fragile and easily breakable objects. To avoid losing your precious belongings in transport, you should protect them, and that has to be done during the packing process.
Let's start with plates – when you are stacking them in a container, ensure that you wrap them and put them vertically. If you decide not to stack them vertically, put Styrofoam plates between the more delicate ones. This can be an affordable and easy way to ensure your plates won't shatter to pieces during transportation.
Next in line are glasses and stemware. You can wrap them in clean socks and put them in specialized containers. If you don't want to protect them with socks, t-shirts will do the trick, as well. It is the best solution if you want to save up on bubble wrap.
Do you have many picture frames that you want to take with you? If so, put pipe insulations and pool noodles around them to protect their edges. You can employ this technique when wrapping mirrors, as well. Just don't forget to tape an X across its surface, to prevent the mirror from shattering. Duct tape would absorb the vibrations on the glass surface, making it more resilient.
If you remove light bulbs from lamps and chandeliers, you will want to keep them in a sturdy container, where they can't be broken. Use the Christmas ornament box for that purpose, and if you don't have it, you can always put them in some bubble wrap.
The essential thing to remember when it comes to ensuring maximal protection of your fragile object is – padding. It is something that will add to the safety of your objects, and you can employ clothing, plastic bags, paper, and any soft material for that purpose. Before you seal the containers, be sure that there is some padding on top. Otherwise, your belongings are at risk of getting crushed.
When you are done, grab a marker and get to labeling. There are two most common ways you can keep track of what is in your containers. Let's go over them.
Color-Coding and Labeling Can Do Wonders
Do you know what will put your boxing up skills in a professional league? Knowing how to label and color-code. With these methods, you will always be aware of where your stuff is located, and make your unpacking that much easier.
Let's start with the labeling technique, which is pretty straightforward. The first thing you should do is collect materials for labeling – different color markers, sticky labels, and colored tape are essential in this process. Remember, if you get high-quality pens, you can keep and use them in the future. Then write down on a visible surface what the content of the container is, and which room it belongs to. If you are reusing already labeled cartons, you can tape over the existing label.
Color-coding is another approach to organizing your stuff so that you recognize which room they go to based on the color on the box. This technique requires you to create a color chart so that you can track which color represents which area. Don't forget to choose distinctively different colors for each spot to avoid mix-ups.
No matter what kind of technique you choose, you should coordinate with your movers or friends who are helping you. Everybody should understand the system. It will speed up the loading and unloading process.
Moving Tips and Hacks for the Relocation Day
The big day has finally arrived, and you just have to power through it, as well as say one last goodbye to your old home. There are more than a few ways you can keep your stress levels at bay and get through this as painlessly as possible.
You put on some comfy clothes, hired a babysitter to keep your kids entertained while you are putting on finishing touches to the relocation. Now you have to designate a no pack zone, which will serve as a place where you can sit down and take a breather.
Are you relocating on your own? If so, you should get a dolly. Heavy objects are almost impossible to lift without it. You can put them on the dolly and load them into the truck. Having the appropriate equipment will be time-saving.
While you are rolling the dolly or pushing the furniture, you might want to protect floors and carpets. Start by getting shoe booties – you will be going in and out of the house. When you are inside, put booties on and don't take your shoes off. Reuse old blankets by putting them on the floor, in the places where the dolly will go through, and where you want to protect the carpet from damage.
Relocation is not only about transporting objects from one place to another. You will also have to change your address. If you have kids, they will have to change schools. Also, you will have to think about turning off utilities and the Internet in the old place and setting them up in your new one.
While rushing to get everything done, don't forget that this should be a fun experience, as well. Use your phone to play some music – it will cheer you up and give the whole operation a more relaxing vibe.
Clean up Your Home Efficiently
When you are done with the long process of boxing up your belongings, it is time to clean up. You can do some of the more tiresome tasks around the house by using stuff from your kitchen. To ensure that all is it as fast and efficient as possible, we offer some advice that will make this tedious task seem like a walk in the park:
Are there any nail holes in the walls from hanging all the pictures and mirrors? If there are,  fill them in with some soap.
Dust off and clean your walls by using brooms, sponges, and towels. You can scrub walls from top to bottom with warm soapy water. Just don't do it with colored sponges, as you don't want to stain the walls.
Did your kids get creative at some point and used white walls as a substitute for canvas? If that was the case, you would have to get rid of all the crayon drawings. Buy WD-40 to get them off the surface without taking the paint off, too.
Get dryer sheets when cleaning baseboards, because they will keep your surfaces dust-free for a more extended period.
Blinds and windows should be cleaned, as well. Get vinegar and water and go over the blinds, and you will see how fast the dust and dirt come off of them. Windows can have some mold in the corners. Prepare q-tips and old toothbrushes, mix vinegar with baking soda, and get to work. Soon enough, they will be clean and good as new.
Think about all the appliances you are leaving behind. If the microwave is one of them, you can clean it with lemon and vinegar. This no-scrubbing method is very efficient and fast. You can employ a similar mix to make your oven shine once again.
Get your stainless steel to shine with tartar cream. Just put it on the surface, let it sit for a while, and wash it off. Your stainless steel object will get a shiny look.
Get rid of grease that accumulated in your kitchen due to cooking with rubbing alcohol.
Did you know that you can remove dents in your carpet that heavy furniture left behind? Place ice cubes on the mat, in the places where dents are, let them melt and get spoons to lift the fibers.
Useful Tricks and Tips for Unpacking Like a Pro
Well, a big part of the relocation is behind you. You used moving hacks to get to your new address without a fuss. Now that your stuff arrived at your place, it's the right moment to peek into those containers and unpack. To avoid turning it into a two-week assignment, there are some helpful tips that you can work with to unpack like a true pro.
If you followed our tip about labeling and color-coding, now you know exactly where your boxes go, so employ the system you chose and put the right containers in the right rooms. If you hired a professional moving service, mark the doors of the rooms with the appropriate color, and tell the movers to put things in the correct spots. This will be an easier way than standing in the middle of the home and yelling where all the stuff should go.
Before you start unsealing containers, use washi or colorful duct to figure out the layout of your furniture around the house. Marking the future place of your couch or bed will give you an idea about what you should assemble first without cluttering the area.
Also, while your belongings are still sealed inside containers, it is the right time to spray for bugs. You never know what kind of problems the old owners had or didn't have with pests, but being proactive and spraying is a smart move. You can apply any home pest spray; just make sure that it is bio-based.
What to unpack first isn't a hard question. Start with your bathroom and bedroom. After a long day of handling items, a hot shower, and a place to crash down and take a nap will be a life-saver. That's why you should have a bed and a functional bathroom. You don't have to pull everything out just yet. Nevertheless, having toiletries and medication, as well as a bed and some clean sheets, will ensure that your first night at the new home is that much more pleasant.
Don't rush, unpack one room at the time. When you empty a carton, break it down and stack it in the corner. Throwing everything in a pile seems like a simpler solution, but you will end up with a chaotic mountain of cartons that will just create an additional mess.
When you are finished with the kitchen, create a grocery list, and head out shopping. You will probably want to treat yourself to a good homemade dinner, and that won't be possible until you stock up your cabinets and your fridge.
To avoid distractions, the last thing you should unpack are game consoles, TV, and your computer. If you want to listen to music while you are unpacking, play it on your phone. However, beware that having the TV hooked up and running might lead to procrastination.
Applying Life Hacks for Moving Will Make Your Relocation as Easy as It Can Be
Moving tips and hacks are there to make the whole course of relocation that much easier. If you use them the right way, you will get to enjoy the entire house-changing process. With proper guidelines on how to protect your fragile items and word of advice on how to pick perfect plastic or carton containers, you cannot go wrong.
Becoming an expert in relocation takes a little bit of creativity and wit, but when you find all the ways you can work with household objects and turn them to your advantage, there is nothing that will stop you.