7+ Moving Interstate Tips You'll Need for Relocating to a New State
Relocating cross country is always an adventurous process, whether you are going one state over or from California to Florida. You have to hammer out a clear and detailed plan of action, pack your stuff properly, and find adequate help. Does it already seem like too much? Relax, we've prepared a few moving interstate tips to help you carry out a stress-free relocation.
Moving Interstate Tips and Reasons Why You Need Them
Are you relocating for a job or purchasing a property, and you have a ton of things going on in your mind? The last thing you want to deal with are moving services and packing? You are not alone. Millions of Americans move across the country every year, and they all share the same or at least similar problems. But since they do it so frequently, it is a real wonder that they have not figured out a way to teleport their belongings. Perhaps that is the future of the relocation industry, but until then, you have to stick to the good old fashioned way, so here are some tested and old-fashioned tips that surely do the trick.
1. Plan Every Part of Your Relocation in Advance
Although this is not the same as international relocation, you still have to plan and prepare in advance as if you are going to move to another country. When we say in advance, we mean like a month or two in advance, at the very least. Begin slowly by creating inventory lists of your household items, and make a plan and schedule of activities. For example, how are you going to move your stuff and yourself, how many days you need to pack everything, when exactly you are shipping your stuff and when they are expected to arrive, etc.
2. Dedicate Some Time To Your Home in Another State
You might tend to focus mainly on your old home, trying not to leave behind some of the most commonly forgotten things to pack. However, we often neglect that our new home might need a bit of remodeling or painting. Since it's much easier to do this when the rooms are empty and no boxes and stuff are lying around, make sure to do all of that before movers deliver your stuff. If you can't be there in person, arrange for someone to do it for you. Your future self will be more than grateful.
3. Pick Your Movers Wisely
The next item on the list should be determining how you will ship your stuff to your new home. Doing it by yourself or with the help of friends is, in most cases, a budget-friendly option. However, it requires a tremendous amount of work and detailed planning, as well as expertise and equipment that you might not possess. The most convenient and efficient solution for relocating your household is definitely employing expert help in the form of professional movers.
If you are wondering how to check if a moving company is legitimate, there are several ways. This is extremely important because someone is going to transport your entire household across several states, and you have to be sure your stuff will be delivered in one piece. Check the USDOT number of the company you are considering, read reviews, ask for a free estimate, and follow your gut. If they do not sound professional, skip them.
4. Packing Valuables
Movers can pack pretty much anything and bring boxes and other packing materials for moving, but there are still some things you can do on your own. Valuable items like jewelry, collectibles, but also toiletries, documents, passports, and other essentials, should be packed in a separate bag that will not go into the moving truck.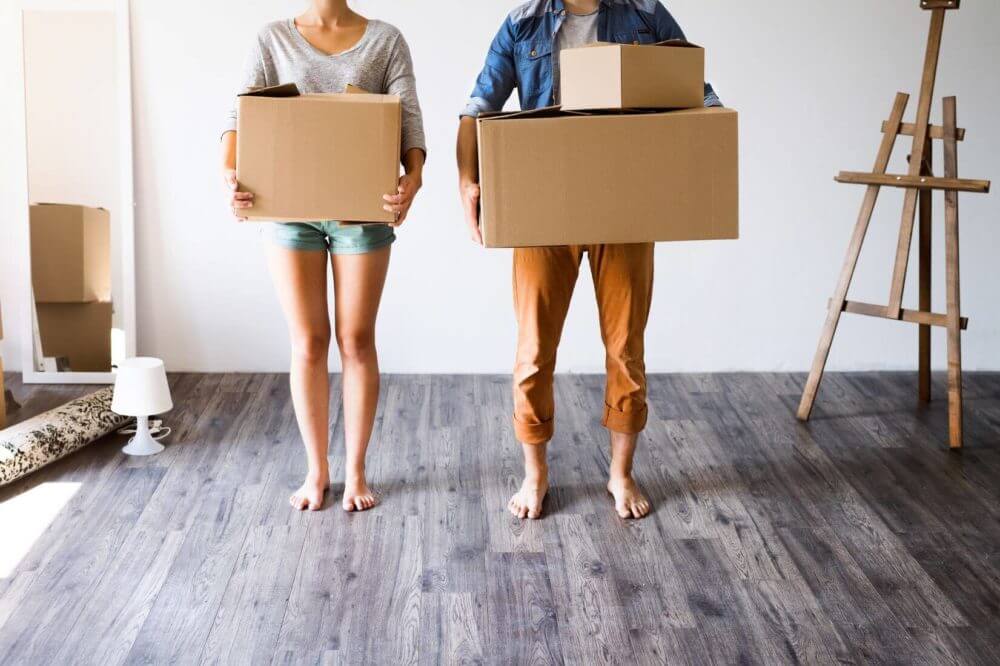 5. You Don't Have to Bring Everything – Downsize
Although it's important to place everything properly into boxes, you should also know what not to pack. Some belongings are absolutely unnecessary in your future home, while others are forbidden from being transported to another state by moving companies. Instead, organize a garage sale or go online and sell some of the stuff you don't use – you will earn money and save even more at the same time because shipping fewer items will reduce the cost of interstate moving. Donating unwanted items is also a smart and generous way to declutter and downsize your home.
6. Smart Packing
The first and foremost unofficial packing rule is to start with it as soon as possible and avoid procrastination, especially if you're doing without any help. Start with the non-essential stuff and go room by room until you reach the kitchen and bathroom, which hold the highest number of essential belongings. And of course, don't forget to obtain the right amount of supplies and to label the boxes once you've taken care of everything.
Another useful and free moving tip is to use old newspapers, towels, cloths, or any other soft fabrics to protect your fragile items instead of paying for brand-new bubble wrap and other cushioning materials. By doing so, you will protect your glasses and other delicate items from breaking and save a few bucks along the way.
7. Ask for Help
An extra pair of helping hands can go a long way, so call your friends and family and tell them you could use some help to pack. Saying bye to friends before you move is always hard, but at least this way, you will spend some time together at home and turn packing into a fun event for everyone. Just don't forget to take some pictures.
Things You Should do Before Relocating From State to State
Once you are all packed and ready to go, it's over. You don't have the time to change your mind or find another apartment. So before your long-distance relocation begins, consider checking out some of these recommendations.
Before Reading Moving Interstate Tips, Look at the Comments Online
In case you are relocating to a state you haven't visited before, it is essential to do proper research. When you go online to read blogs and travel diaries, don't forget to read the comment section, as well. Besides, find forums and online communities where people who actually live there share their experiences.
Pack Only the Things That Will Suit Your Lifestyle
If you are relocating from Alaska to Florida, or vice versa, you have to pack cleverly. Your boots and thick coats will take up so much space, but you will hardly have the opportunity to wear them. Bring some favorite clothes, and put the rest in storage, or learn how to organize things for donation before your relocation.
Explore What's Trending
If you want to feel like a local from day one, you can explore a bit to see which places are currently trending, where locals go on weekends, how they spend their days. Perhaps watching a local baseball team play is a weekend tradition, or the locals like to drink in pubs, run around parks, etc. Explore their mentality a bit and see how you can fit in. It will help you make new friends and feel more like a local.
The Bottom Line
One good thing about relocating is that you can always hire movers and pay for their services, but you can never rely solely on them. One way or another, relocation requires a lot of effort, so the main thing is to organize everything on time and make sure to keep up with your schedule. There will always be some new last-minute thing, and not everything can go according to the plan, but you can always try to do your best.